Inspiring Women with Laurie McGraw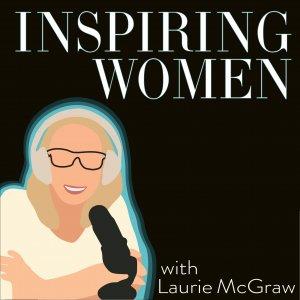 Pro tips for navigating hybrid work and other sound advice from Morgan Diaz || EP. 131
August 01, 2023
Laurie McGraw is speaking with Inspiring Women Morgan Diaz, VP of Strategy, Operations and Partnerships at athenahealth.
In her day job, Morgan has responsibility for the largest, most connected marketplace in healthcare with over 400 partners connecting data to the core athena EHR system.  Morgan talks about the data flywheel this creates with interoperability at the core.  And the innovation is impressive.  No one company can do it all.  Physician practices today are  looking for specialty specific product extensions or ways to meet the ever-increasing expectations of their patients.
Morgan began her career in retail operations but had a career inflection point with the birth of her first child. Her pivot to healthcare began at CVS where she caught "the bug".  Morgan is motivated by purpose and operates best when she is pushing her comfort zone.  Along the way, female mentors have been a consistent thread in her own success.  Because of this, supporting other women and emerging leaders is something deeply personal and important.
She also provides practical advice for professionals to keep them calibrated to their team and their customers in a world of hybrid work.
Morgan's Pro Tips:
Make sure you are heard so that when you are not in the room, others know your value.

Be consistent in checking in with your leader so they also see the small work being done.

Document your journey along the way.

Be brave and curious and a source of inspiration for others.

And be proud to stand out!

……………………………..
About  Morgan Diaz
VP, Strategy, Operations and Partnerships at athenahealth
 An entrepreneurial-minded, charismatic and top-performing executive skilled in business planning, product strategy, development and execution. Demonstrated experience building entirely new health verticals, working collaboratively across matrixed organizations to create differentiating patient experiences that deliver brand loyalty and sustainable revenue growth.
---
Download Episode