Inspiring Women with Laurie McGraw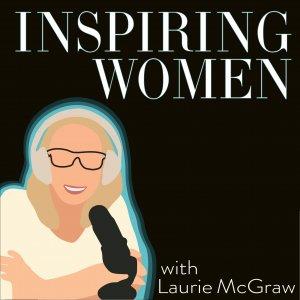 WBL Series with Priya Bathija, Jhaymee Tynan, & Phoebe Yang: Diversity is Core to Business Excellence || EP. 129
July 13, 2023
Laurie McGraw is speaking with Inspiring Women Priya Bathija, Jhaymee Tynan, and Phoebe Yang at the WBL (Women Business Leaders of the U.S. Health Care Industry Foundation) Annual Summit.
A consultant and two lawyers walk into a room.  What happens?
They leave as friends with a renewed commitment to DEI.
This conversation centers DEI discussions with a focus on business excellence. It must start there.  This powerhouse trio is not interested in simple, cursory discussions or performative company efforts regarding DEI.  Rather, they discuss how diversity around the leadership table can impact the speed to attain and impact of results.  They provide practical approaches for how to address those leaders may nod their heads in agreement to DEI objectives, yet sabotage in sometimes subtle and sometimes not so subtle ways.
In making the case for diversity in leadership, you will also learn from Priya, Jhaymee and Phoebe, the importance of friendship. Having your "tribe" along with you when you do hard things, take risks, put yourself out there, and oh yes… succeed.
About WBL
WBL (Women Business Leaders of the U.S. Health Care Industry Foundation) is a nonprofit organization housing the premier network of women executives across the healthcare industry. With 1200+ active members, WBL offers unparalleled opportunities for networking, professional development, and executive education while fostering a welcoming community of peers committed to supporting and advancing one another.
About  Priya Bathija
Founder/CEO Nyoo Health
Priya Bathija, is a nationally-recognized healthcare leader, attorney, and policy expert.
With 20 years of experience working for, in, and with hospitals, she has led the design, implementation and growth of initiatives that make the health system work better for everyone.
Previously, she was at the American Hospital Association where she led policy efforts and strategic initiatives on value, health equity and maternal health. She started her career as a health care attorney and served as in-house counsel and a member of the leadership teams at ProMedica and MedStar Health.
About  Jhaymee Tynan
Principal, Healthcare Services Korn Ferry
Founder 100×2030
Author Inclusive Sponsorship, A Bold Vision to Advance Women of Color in the Workplace
Jhaymee Tynan provides executive search and leadership advisory services for senior

executives of healthcare services, pharmaceuticals, and life sciences organizations. Previously, Jhaymee

was Enterprise Assistant Vice President, Integration at Atrium Health (now Advocate Health), an

academic healthcare system where she led multi-billion-dollar post-merger integrations for health

system mergers and acquisitions (M&A) across the Southeast. She was also a Manager at Deloitte

Consulting, focused on business model transformation in healthcare and a Consultant at Egon Zehnder.
About  Phoebe Yang
Fortune 2 Executive (Amazon)
Board Director (GE Healthcare, Doximity, CommonSpirit)
Phoebe L. Yang is a trusted C-suite executive, board director, and advisor across digital media, healthcare, technology, and consumer industries with some of the world's most valued and admired companies. She is inspired and driven by the mission of enabling access, affordability, convenience, and excellence through digital transformation.

Recognized as a digital transformation and global expansion operator, thought leader, and investor. Having served in two Presidential Administrations in technology and international diplomacy, she is a life member of the Council on Foreign Relations.
---
Download Episode