Inspiring Women with Laurie McGraw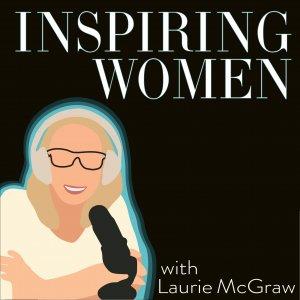 WBL Series with Tuyet DesJean: On Being More Than || EP. 128
July 07, 2023
Laurie McGraw is speaking with Inspiring Woman Tuyet DesJean at the WBL (Women Business Leaders of the U.S. Health Care Industry Foundation) Annual Summit.
A daughter of immigrants, an infant refugee whose parents went from the boat to the camp in pursuit of something better.  Every day Tuyet looks at that family picture by her desk, herself as an infant, her young parents (17 and 21 at the time) and she is reminded.  And she is grateful.  And what she knows today and knows deeply, is that she is more than….  What her parents dreamed for and then also, so much more.
Humble beginnings served as the fuel to her desire for making an impact and for creating change.  Becoming a lawyer may have been a surprise to her parents, but being excellent was never a doubt.  Ask for the tough projects, gain experience, become more efficient along the way.  Tuyet proudly discusses her work at the AMA, its impact on making healthcare better, her love for the profession and her expertise in intellectual property.
Today, Tuyet has a growing young family.  On being a "Power Mom"?  "Having children has made me a better lawyer."  Efficiency and effectiveness are the priorities so that she can be present with her family.  Her advice?  It's OK to ask for help, to delegate, and to not be trapped by artificial guilt for not doing it all.
She expects more.  She is grateful for more.  Tuyet DesJean is more.
*****************************
About WBL
WBL (Women Business Leaders of the U.S. Health Care Industry Foundation) is a nonprofit organization housing the premier network of women executives across the healthcare industry. With 1200+ active members, WBL offers unparalleled opportunities for networking, professional development, and executive education while fostering a welcoming community of peers committed to supporting and advancing one another.
About Tuyet DesJean
Associate General Counsel, American Medical Association
Solution-oriented and experienced attorney with sophisticated experience and in-depth knowledge of the AMA's existing goals and emerging opportunities in health care, with focused attention on legal and regulatory matters concerning intellectual property, medical terminologies, content licensing, and advances in technology with potential to disrupt the practice of medicine. Tuyet is a well-respected member of the Office of General Counsel team with more than ten years of legal experience at the AMA.
As the lead attorney for the Coding Solutions and Transactions practice area, Tuyet currently focuses on legal issues related to the maintenance and licensing of the CPT code set and initiatives to further CPT as the uniform terminology to describe medical procedures and services.
---
Download Episode