Inspiring Women with Laurie McGraw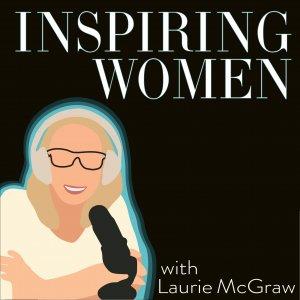 WBL Series with Dr. Katherine Saunders: The Complex Reality of Obesity Medicine|| EP. 127
June 29, 2023
Laurie McGraw is speaking with Inspiring Woman Dr. Katherine Saunders at the WBL (Women Business Leaders of the U.S. Health Care Industry Foundation) Annual Summit.
Dr. Saunders is an obesity medicine specialist and recent entrepreneur, cofounding Intellihealth with the physician who inspired her to pursue this specialty.  Ten years ago, obesity was recognized as a chronic condition.  Yet only 2% of the staggering 74% of overweight or obese Americans seek treatment.  Katherine provides a brief pathophysiology lesson to dispel the all-too-common myth that obesity is just a lifestyle problem.  Treatments do exist and Katherine is focused on democratizing care.  She is excited about the new, safe, effective drugs that are receiving a lot of press recently but recognizes these simply cost too much for most.  She looks forward to the many new medication options that are in the pipeline.
As WBL members, we know to always ask "How can I help you?".  So, I did!!  To this, Katherine responded:
Help combat the bias surrounding obesity. Know that it is a complex, chronic condition with effective treatments.

And she would love to speak with interested investors as well as employer groups.

About WBL
WBL (Women Business Leaders of the U.S. Health Care Industry Foundation) is a nonprofit organization housing the premier network of women executives across the healthcare industry. With 1200+ active members, WBL offers unparalleled opportunities for networking, professional development, and executive education while fostering a welcoming community of peers committed to supporting and advancing one another. 
About   Dr. Katherine Saunders
EVP/CoFounder Intellihealth
Dr. Katherine H. Saunders is a physician entrepreneur and a leading expert in Obesity Medicine. She is on the cutting edge of effective and compassionate obesity treatment. Dr. Saunders is on faculty at Weill Cornell Medicine, where she teaches and precepts.
Dr. Saunders received her undergraduate degree Phi Beta Kappa/Summa Cum Laude from Dartmouth College and her medical degree from Weill Cornell Medical College, where she became a member of the Alpha Omega Alpha Honor Medical Society. She completed her internship and residency training in Internal Medicine (Primary Care) at NewYork-Presbyterian Hospital/Weill Cornell Medicine, where she served as ambulatory chief resident. Dr. Saunders was the first clinical fellow in Obesity Medicine at the Comprehensive Weight Control Center at Weill Cornell Medicine.
Dr. Saunders is a diplomate of the American Board of Internal Medicine and the American Board of Obesity Medicine. She hosts the Weight Matters podcast with Dr. Louis Aronne, she regularly speaks at international conferences, and she publishes extensively on Obesity Medicine and weight management. She has authored more than 50 peer-reviewed articles and book chapters. Additionally, she has been featured in multiple national media outlets, including Women's Health, USA Today, Medical News Today, and NY Post. Dr. Saunders also makes frequent guest appearances on a variety of podcasts and radio shows.
Dr. Saunders' recent awards and recognition include the Women at Weill Investment Competition, Brown Brothers Harriman 22 Women to Watch in 2022 and Medika Life Top 30 Influencers Transforming Wellness in 2023.
---
Download Episode