Insider Interviews with E.B. Moss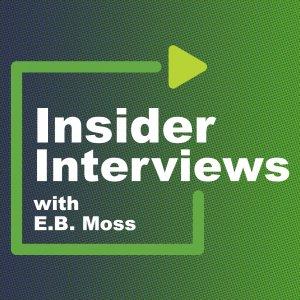 Latest Episodes

March 25, 2021
Epi 27 -- Building a Diverse Agency to Drive Business Opportunity

February 11, 2021
Joakim (Kim) Wijkstrom, SVP / CMO of Vanda Pharmaceuticals, has learned to "Think Different" and have "Lending Done Human." He has sent little, teeny Absolut bottle-shaped Christmas sweaters to readers of the New York Times,

January 28, 2021
Ep1 23 with a Relationship-driven Chief Creative Officer

January 07, 2021
Episode 22 on Marketing to Improve Our Social Determinants of Health

December 17, 2020
For Episode 21 I spoke with someone who's been an animated head more times than he can probably count: Paul Hanges is CEO of JibJab, which is famous for its personalized e-cards and satire animations that lets your head be the star!

November 26, 2020
A Thanksgiving Bonus on Human Connection -- with a little Tech Help

October 22, 2020
Epi 20 the Insider Scoop on Digital Advertising

October 08, 2020
Sean Cunningham is the son of a radio personality and the husband of grammarian. That may be why he expresses himself so fluidly and works hard to offer clear explanations about the video landscape at the same time.