IFTNEXT Food Disruptors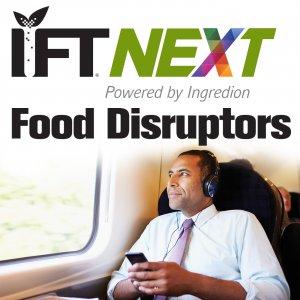 Latest Episodes

August 09, 2021
Since 2017, IFT's Global Food Traceability Center has worked with the World Wildlife Fund to advance a unified framework by convening seafood companies and other relevant stakeholders as part of the G

May 07, 2021
This year, the Seeding the Future Foundation is funding the first annual Seeding the Future Global Food System Challenge, which aims to inspire and support passionate, diverse and multidisciplinary teams to create game-changing innovations that will he...

April 07, 2021
In this podcast, we discuss food safety culture, including how food safety culture is established, measured, and how they are expected to change in light of ongoing advancements in food science and policy. Our guests include Hugo Gutierrez,

March 07, 2021
With more and more people focusing on their health these days, it's no surprise that consumers are looking to spice up their culinary selections. But long before they became a part of our creative recipes, herbs and spices have had a long history of be...

January 25, 2021
Today's discussion includes Dr. William Moseley, a DeWitt Wallace Professor of geography and director of the Food, Agriculture & Society Program at Macalester College in Saint Paul, Minnesota, and Dr. Barbara Burlingame,

January 06, 2021
Today's podcast features Kelly Hensel, IFT's senior digital editor, and John Ruff, IFT's Chief Science and Technology Officer. We'll be discussing a few of the major trends that both Food Technology Magazine's editorial team as well as IFT's Science,

December 17, 2020
Today's podcast is just in time for New Year's resolutions because we'll be talking about the upcoming 2020-2025 dietary guidelines for Americans. While the new guidelines are expected to be announced by the end of the year,

December 07, 2020
While studies of human gut flora have taken place for decades, scientists have only recently started to dissect the complex relationship between the microbiome, diet, immune functioning, and overall health. As knowledge on the microbiome develops,

September 15, 2020
September is National Food Safety Education Month and today, we're joined by three food safety experts to explore the latest in foodborne illnesses, safety, and prevention. We'll discuss the implications of food recalls, food safety and coronavirus,

May 21, 2020
The world we live in is in flux. On this podcast, we continue our conversation with IFT's own Maria Velissariou and April Rinne on where they see the world going, particularly as it relates to food, economic practices, emerging technologies,