Horse Geeks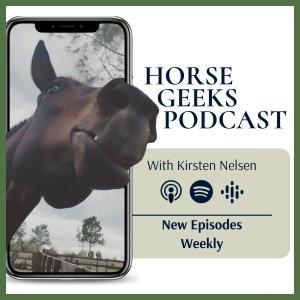 Horse Geeks Episode 104: Herd Dynamics
September 03, 2023
The Horse Geeks Podcast – Where we look at horses and riding from the inside out
NEW: Wexford Training monthly newsletter! Get micro lessons with Thoughts to Ponder, Info on new content, learning offers and updates to my calendar delivered to your inbox monthly by signing up on the email list.

Sign up is at the bottom of the home page at www.kirstennelsen.com  

AND – For a FREE Power Hour consultation please visit: www.kirstennelsen.com
Topic: What we need to know as horse owners about herd dynamics and how they play a role in our horse's inner sense of safety. Many of the problems we have with horses can stem from our lack of awareness or dismissing the little tests that our horses give us when they need reassurance. Also how to tell the difference when a horse perceives us as predator compared to when our horse is testing our metal as a herd member.
Guest: Deb Romero, certified Alexander Technique Instructor

www.optimalposture.org
Host: Kirsten Nelsen, professional horse trainer

Developer of Training for Optimal Balance
https://kirstennelsen.com/

The post Horse Geeks Episode 104: Herd Dynamics appeared first on Kirsten Nelsen.
---
Download Episode