Horse Geeks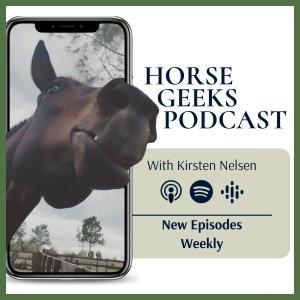 Horse Geeks Episode 103: Internal Straightness
September 03, 2023
The Horse Geeks Podcast – Where we look at horses and riding from the inside out
NEW: Wexford Training monthly newsletter! Get micro lessons with Thoughts to Ponder, Info on new content, learning offers and updates to my calendar delivered to your inbox monthly by signing up on the email list.

Sign up is at the bottom of the home page at www.kirstennelsen.com  

AND – For a FREE Power Hour consultation please visit: www.kirstennelsen.com
Topic: Discussion about what internal straightness means, as two dimensions or as a combination of two spinal functions. Internal straightness is an important part of balance, not only for riders but especially for our horses. Straightness, which could also be called length x width, brings efficiency and ease to movement. Also discussed is how our horse can look straight while still holding a bend or rotation issue through the spine.
Guest: Deb Romero, certified Alexander Technique Instructor

www.optimalposture.org
Host: Kirsten Nelsen, professional horse trainer

Developer of Training for Optimal Balance
https://kirstennelsen.com/

The post Horse Geeks Episode 103: Internal Straightness appeared first on Kirsten Nelsen.
---
Download Episode