Horse Geeks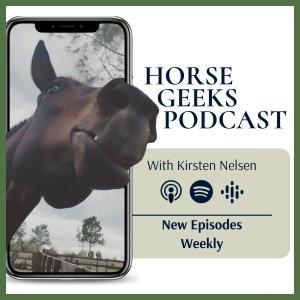 Horse Geeks Episode 101: Simple Does Not Mean Easy
August 17, 2023
The Horse Geeks Podcast – Where we look at horses and riding from the inside out
NEW: Wexford Training monthly newsletter! Get micro lessons with Thoughts to Ponder, Info on new content, learning offers and updates to my calendar delivered to your inbox monthly by signing up on the email list.

Sign up is at the bottom of the home page at www.kirstennelsen.com  

AND – For a FREE Power Hour consultation please visit: www.kirstennelsen.com
Topic: The complexity of a body in motion is not simple, but working with the forces of motion generated by every single change in that body is simple. When we stick with what we feel, we know when our horse begins to discover better mechanical coordination because the feeling of the ride becomes smoother, easier and more stable, despite any conformational challenges. Understanding how forces of motion need to be organized gets us away from over managing body parts or struggling in one dimension at a time. When we picture the lines of force, in three dimensions, that are generated by correct mechanical use, then we stick with the simplest part of riding and training – but simple does not mean that it is easy – for us or our horse. Changing internal coordination, the very habits of how we move, is not easy for any "body" us or our horses.
Guest: Deb Romero, certified Alexander Technique Instructor

www.optimalposture.org
Host: Kirsten Nelsen, professional horse trainer

Developer of Training for Optimal Balance
https://kirstennelsen.com/

The post Horse Geeks Episode 101: Simple Does Not Mean Easy appeared first on Kirsten Nelsen.
---
Download Episode