Horse Geeks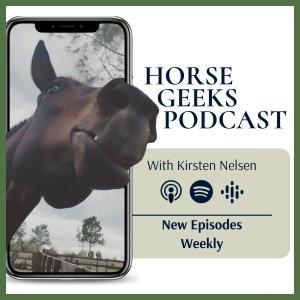 Horse Geeks Episode 98: Why Use Groundwork With Our Horses
August 05, 2023
The Horse Geeks Podcast – Where we look at horses and riding from the inside out
NEW: Wexford Training monthly newsletter! Get micro lessons with Thoughts to Ponder, Info on new content, learning offers and updates to my calendar delivered to your inbox monthly by signing up on the email list.

Sign up is at the bottom of the home page at www.kirstennelsen.com  

AND – For a FREE Power Hour consultation please visit: www.kirstennelsen.com
Topic: Groundwork with horses is much more than just tiring out our anxious horse or preparing a horse to be ridden safely, groundwork can be used during all stages of training and development of balance. No matter how well we ride, sometimes horses can progress faster with weight off their backs. Also discussed is the difference between groundwork that is unsupported and supportive groundwork. Depending on what advancement we are trying to make, we can use either version of groundwork in order to help our horse develop both balance and self-carriage.
Guest: Deb Romero, certified Alexander Technique Instructor

www.optimalposture.org
Host: Kirsten Nelsen, professional horse trainer

Developer of Training for Optimal Balance
https://kirstennelsen.com/

The post Horse Geeks Episode 98: Why Use Groundwork With Our Horses appeared first on Kirsten Nelsen.
---
Download Episode