Horse Geeks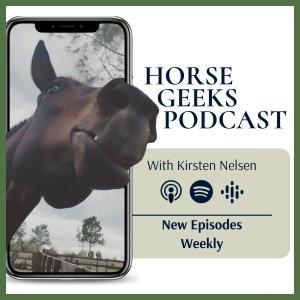 Horse Geeks Episode 97: Working Through Fear Issues with Horses
August 05, 2023
The Horse Geeks Podcast – Where we look at horses and riding from the inside out
NEW: Wexford Training monthly newsletter! Get micro lessons with Thoughts to Ponder, Info on new content, learning offers and updates to my calendar delivered to your inbox monthly by signing up on the email list.

Sign up is at the bottom of the home page at www.kirstennelsen.com  

AND – For a FREE Power Hour consultation please visit: www.kirstennelsen.com
Topic: Our fears as riders can start in subtle ways, with avoidance, excuses or mild anxiety that we think we can overcome. But our fears need to be recognized and worked with rather than ignored or pushed through, if we want to get back to really enjoying our equine companions. Meet Anne Axell, host of the podcast "Horse and Health" who joins me for a discussion about helping both people and horses authentically regain lost confidence through simple, gently and very effective strategies.
Guest: Anne Axell, host of Horse And Health podcast

www.annneaxell.com

Facebook Group: Confidence and Connection with Horses

(August release) New on-line group: Happy Horse Hop
Host: Kirsten Nelsen, professional horse trainer

Developer of Training for Optimal Balance
https://kirstennelsen.com/

The post Horse Geeks Episode 97: Working Through Fear Issues with Horses appeared first on Kirsten Nelsen.
---
Download Episode