Girl Power Alliance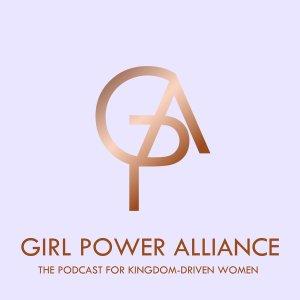 Episode 129 - Beauty...what does God say?
January 06, 2023
Girl Power Alliance is a community of women who are Kingdom-Driven and want to empower, encourage, and equip each other with the tools to experience growth in both their faith and personal life.
Girl Power Alliance Guest: Jessica Shakir
Jessica Shakir is a Biblical Beauty Coach and Founder of The Beautiful Mind Academy, a global online community of Jesus-loving women renewing their minds with the Word of God and transforming their worlds through spiritual growth and trustworthy sisterhood!
Through Soul Care and Spiritual Leadership Coaching Programs, Guest Speaker Masterclasses, and epic In-Person Retreats, Jessica helps women understand and live out Biblical Beauty to the Glory of God!
Jessica has worked as a Celebrity Hair + Makeup Artist for 25 years with a clientele that includes Colbie Caillat, Kevin Bacon, Jane Lynch, Rachel Hunter, Grace Park, Daniel Dae Kim, The Backstreet Boys, and Eminem. She's even more excited to get to work with women of God whom she admires including Lisa Bevere, Lisa Harper, Havilah Cunnington, Laurie Crouch, Victoria Osteen, Cece Winans, and many more.
As a TV Beauty Expert, Jessica has been regularly featured on national TV segments on shows including ABC's FABLife and The Dr. Oz Show. She was the Key Hair and Makeup Artist for Praise and Better Together for the Trinity Broadcast Network for 5 years and has worked on set of The Talk, Steve Harvey, Wendy Williams, and America's Next Top Model.
Jessica is wildly in love with her husband, Vincent Shakir, and she's also passionate about encouraging single women to wait well by honoring God with a flourishing life! Vincent and Jessica just moved from Southern California to Sweet Home Alabama to build a home and open a restaurant, Bistro 17, in downtown Tuscaloosa!
Above all, Jessica delights in her relationship with Jesus, she finds joy in living a beautiful life, and desires to raise up an army of God's daughters who are spiritually equipped and ready to lead and love others well!
Connect with Jessica:
www.TheBeautifulMindAcademy.com
www.Instagram.com/JessicaShakirBeauty
STAY IN THE KNOW! Join our GPA Community Today:https://girlpoweralliance.com/membership/
FOLLOW US ON SOCIAL:
Facebook: https://www.facebook.com/groups/girlpoweralliancemembers
Instagram: https://instagram.com/girlpoweralliance
Website: http://girlpoweralliance.com/
iTunes: https://podcasts.apple.com/us/podcast/girl-power-alliance/id1506856958
Spotify: https://open.spotify.com/show/7byrp7oXxaCs056xWoNucB?si=ndc8Fc_CSgex5sE5bT3Vo
---
Download Episode