Foster & Motley : A podcast about Wealth & Life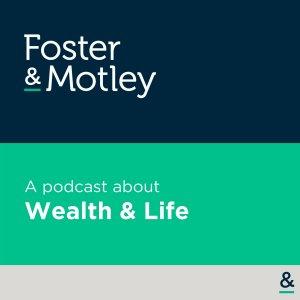 What is Property & Casualty Insurance and how do I make sure I have the right Coverage? With Rachel Rasmussen, MBA, CFA, CDFA®, and guest, Erin Blevins
August 02, 2023
Not all insurance plans are created equal, which is why having the right partner matters.
In this episode, Rachel Rasmussen, MBA, CFA, CDFA®, is joined by Erin Blevins from Oswald Insurance to dive into property and casualty insurance specifically.  They discuss how to make sure you have the right coverage for your situation and  the importance of planning for unknown risks. 
Erin also shares about:
The difference between market value and replacement value in home insurance

The importance of umbrella coverage

Considerations you need to make when looking to purchase a home in a weather rampant area

Why insurance is necessary outside of legal requirements

And more

Connect With Erin:
Connect With Rachel Rasmussen:
Disclosure:
The information discussed and posted represents the views and opinions of the guest and does not necessarily represent the views or opinions of Foster and Motley. The content has been made available for informational and educational purposes only and is not intended to be a substitute for professional financial advice. Keep in mind that rules and regulations are subject to change. Always seek the advice of your financial advisor or other qualified financial service provider with any questions regarding your financial planning and investments. Foster and Motley is not affiliated with any third-party providers. Any mention of a third-party provider does not imply an endorsement of that provider. If you decide to utilize a third-party provider, you do so at your own risk.
About Our Guest:
Erin Blevins joined The Oswald Companies in early 2016 with more than 20 years of experience in Personal Risk Management in the affluent space. She has an extensive focus in Business Development and Relationship Management. In addition, has developed a specialized niche dedicated to high-profile clientele and multi-generational families.
EDUCATION AND PROFESSIONAL AFFILIATIONS
Erin attended Ball State University and The University of Cincinnati with a focus in Business Marketing. Erin has earned her Certified Insurance Services Representative (CISR) designation and is currently pursuing an additional designation as a Chartered Private Risk and Insurance Advisor (CPRIA). She has studied with various insurance carriers to complete sales and service training to provide exceptional service to her clients. Erin also serves on the board for her community's youth football organization.
---
Download Episode