ColemanNation - Season 2: Ron Coleman's Interesting People
"The Continuing Journey of Sohrab Ahmari"
August 29, 2023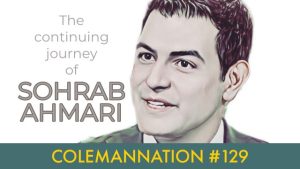 Sohrab Ahmari is the kind of public intellectual the commentariat can't stand: Unapologetically Catholic and almost painfully sincere. One of ColemanNation's earliest guests swings back for a chat.
Purchase Sohrab's new book "Tyranny, Inc.: How Private Power Crushed American Liberty–and What to Do About It"
Facebook
Twitter
LinkedIn
Reddit
Messenger
Email
The post "The Continuing Journey of Sohrab Ahmari" appeared first on ColemanNation.
---
Download Episode