ChamberCast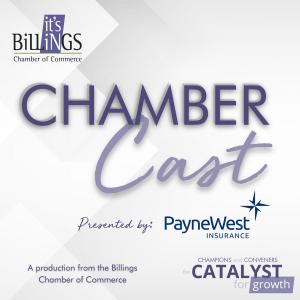 Workforce
November 03, 2021
The labor shortage is on everyone's mind right now. This global problem is making it more difficult to do business here in Billings, and the impact around the world is wreaking havoc on supply chains. This week we sat down with Mike Wilson from Whitewood Transport and Brad Anderson from Anderson Management group to discuss these issues. In this episode you will hear a great explanation of the problem, and get some great advice on how to handle it.
Marya and Jack's answers to this week's Rorschach questions:
1. What is the best road trip you have ever taken? 
Marya: 1. - To all the "canyons" in Utah: Grand Canyon, Bryce Canyon, Zion National Park, and Arches National Park. 2. – When my kids were little we drove to DisneyLand, stopping at all the sights along the way… Crater Lake, Redwoods, etc.
Jack: I'm really not much of a road tripper, but right after I graduated high school I took a road trip to Coeur d'Alene with my classmates.
2. What is the best thing that has happened in your organization recently?
Marya: We have recently hired some truly amazing people to be part of our team! They already make us better!
Jack: I agree with Marya. I am also really proud of the work we have done around this year's municipal election.
3. What is that one thing you are going to buy now because you know there will be supply chain issues?
Marya: Luggage for my daughter to travel overseas. Already ordered!
Jack: This will be a good test to see if my wife reads these. I'll be ordering her a rock tumbler to polish rocks that we find on our walks.
---
Download Episode