ChamberCast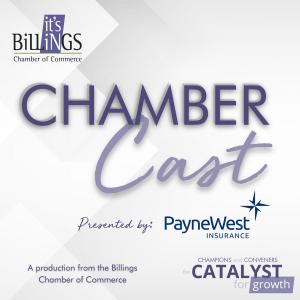 Billings Trails
August 25, 2021
This week, Billings TrailNet's Program Coordinator Lynn Harper joined us to talk about all things Billings trails and especially Ales for Trails!
To learn more, volunteer, donate, become a TrailNet member, or buy tickets to Ales for Trails visit Billings TrailNet.org.
Marya and Jack's answers to this week's Rorschach questions:
1. What is your favorite trail food?
Marya: So many things… Chocolate and peanut butter Cliff Nut Butter Bars, Keto granola/trail mix, Baby bel cheese… I just like to eat!
Jack: They call it "trail mix" for a reason; that's because it's the perfect trail food.
2. What is your favorite trail in Billings?
Marya: Norm Schoenthal Island with my dog Max
Jack: Zimmerman Park. If you want, you can walk along the rims all the way through Indian Cliffs to the Back Nine trail, which goes all the way to the cliffs above the "Castle house" in Ironwood. There isn't a bad view the whole way.
3. What is your favorite ale?
Marya: Street Fight Irish Red Ale from Angry Hanks, but I do also enjoy Cold Smoke from KettleHouse Brewing Co.
Jack: My favorite beer in the world is Smithwick's, which everyone should try if they visit Ireland. I'll give an honorable mention to Moose Drool, but my favorite Billings beer is also Street Fight. It's just too good to argue with.
---
Download Episode