Cardionerds: A Cardiology Podcast
258. Guidelines: 2022 AHA/ACC/HFSA Guideline for the Management of Heart Failure – Question #5 with Dr. Clyde Yancy
January 19, 2023
The following question refers to Section 7.1 of the 2022 AHA/ACC/HFSA Guideline for the Management of Heart Failure. The question is asked by New York Medical College medical student and CardioNerds Intern Akiva Rosenzveig, answered first by Cornell cardiology fellow and CardioNerds Ambassador Dr. Jaya Kanduri, and then by expert faculty Dr. Clyde Yancy.
Dr. Yancy is Professor of Medicine and Medical Social Sciences, Chief of Cardiology, and Vice Dean for Diversity and Inclusion at Northwestern University, and a member of the AHA/ACC/HFSA Heart Failure Guideline Writing Committee.
The Decipher the Guidelines: 2022 AHA / ACC / HFSA Guideline for The Management of Heart Failure series was developed by the CardioNerds and created in collaboration with the American Heart Association and the Heart Failure Society of America. It was created by 30 trainees spanning college through advanced fellowship under the leadership of CardioNerds Cofounders Dr. Amit Goyal and Dr. Dan Ambinder, with mentorship from Dr. Anu Lala, Dr. Robert Mentz, and Dr. Nancy Sweitzer. We thank Dr. Judy Bezanson and Dr. Elliott Antman for tremendous guidance.
Enjoy this Circulation 2022 Paths to Discovery article to learn about the CardioNerds story, mission, and values.
Ms. L is a 65-year-old woman with nonischemic cardiomyopathy with a left ventricular ejection fraction (LVEF) of 35%, hypertension, and type 2 diabetes mellitus. She has been admitted to the hospital with decompensated heart failure (HF) twice in the last six months and admits that she struggles to understand how to take her medications and adjust her sodium intake to prevent this.  Which of the following interventions has the potential to decrease the risk of rehospitalization and/or improve mortality?
A
Access to a multidisciplinary team (physicians, nurses, pharmacists, social workers, care managers, etc) to assist with management of her HF
B
Engaging in a mobile app aimed at improving HF self-care
C
Vaccination against respiratory illnesses
D
A & C
The correct answer is D – both A (access to a multidisciplinary team) and C (vaccination against respiratory illness).
Choice A is correct. Multidisciplinary teams involving physicians, nurses, pharmacists, social workers, care managers, dieticians, and others, have been shown in multiple RCTs, metanalyses, and Cochrane reviews to both reduce hospital admissions and all-cause mortality. As such, it is a class I recommendation (LOE A) that patients with HF should receive care from multidisciplinary teams to facilitate the implementation of GDMT, address potential barriers to self-care, reduce the risk of subsequent rehospitalization for HF, and improve survival.
Choice B is incorrect.  Self-care in HF comprises treatment adherence and health maintenance behaviors. Patients with HF should learn to take medications as prescribed, restrict sodium intake, stay physically active, and get vaccinations. They also should understand how to monitor for signs and symptoms of worsening HF, and what to do in response to symptoms when they occur. Interventions focused on improving the self-care of HF patients significantly reduce hospitalizations and all-cause mortality as well as improve quality of life. Therefore, patients with HF should receive specific education and support to facilitate HF self-care in a multidisciplinary manner (Class I, LOE B-R). However, the method of delivery and education matters. Reinforcement with structured telephone support has been shown to be effective. In contrast the efficacy of mobile health-delivered educational interventions in improve self-care in patients with HF remains uncertain.
Choice C is correct. In patients with HF, vaccinating against respiratory illnesses is reasonable to reduce mortality (Class 2a, LOE B-NR). For example, administration of the influenza vaccine in HF patients has been shown to reduce all-cause mortality and hospitalizations.
Main Takeaway
Implementation of multidisciplinary care teams has been proven to reduce rehospitalization and mortality in HF patients. While education on self-care of HF patients is important, not all delivery methods have been shown to be effective.
Guideline Loc.
Section 7.1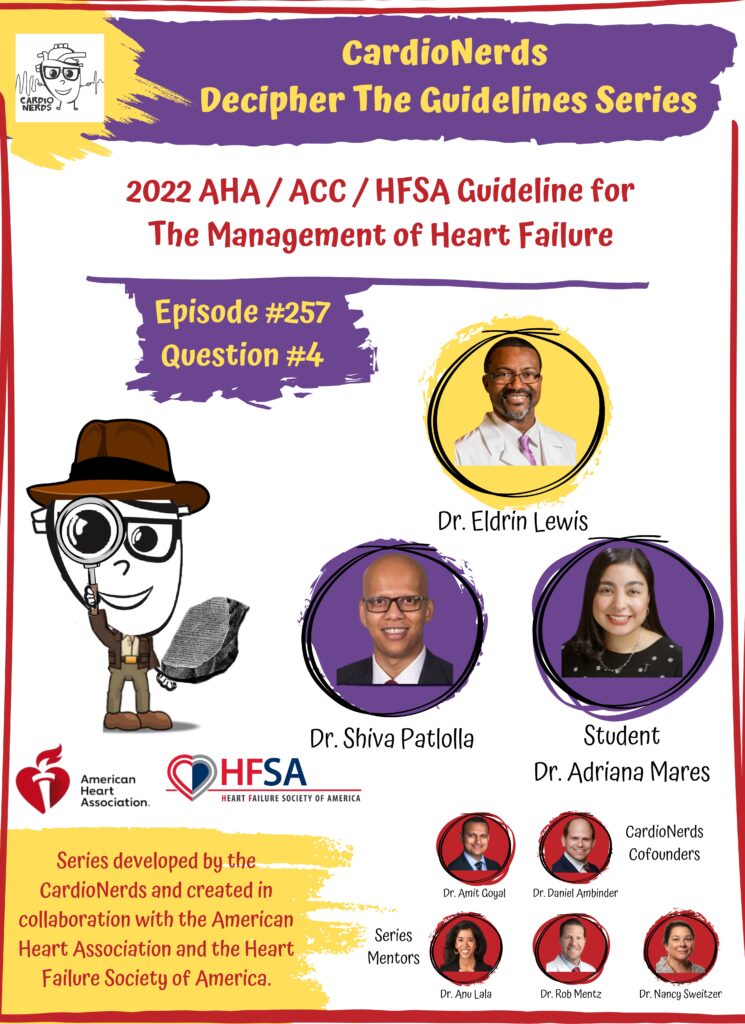 Decipher the Guidelines: 2022 Heart Failure Guidelines Page
CardioNerds Episode Page
CardioNerds Academy
Cardionerds Healy Honor Roll
CardioNerds Journal Club
Subscribe to The Heartbeat Newsletter!
Check out CardioNerds SWAG!
Become a CardioNerds Patron!
---
Download Episode