Cardionerds: A Cardiology Podcast
255. Guidelines: 2022 AHA/ACC/HFSA Guideline for the Management of Heart Failure – Question #2 with Dr. Mark Drazner
January 09, 2023
The following question refers to Section 6.1 of the 2022 AHA/ACC/HFSA Guideline for the Management of Heart Failure. The question is asked by Keck School of Medicine USC medical student & CardioNerds Intern Hirsh Elhence, answered first by Mount Sinai Hospital cardiology fellow and CardioNerds FIT Trialist Dr. Jason Feinman, and then by expert faculty Dr. Mark Drazner.
Dr. Drazner is an advanced heart failure and transplant cardiologist, Professor of Medicine, and Clinical Chief of Cardiology at UT Southwestern. He is the President of the Heart Failure Society of America.
The Decipher the Guidelines: 2022 AHA / ACC / HFSA Guideline for The Management of Heart Failure series was developed by the CardioNerds and created in collaboration with the American Heart Association and the Heart Failure Society of America. It was created by 30 trainees spanning college through advanced fellowship under the leadership of CardioNerds Cofounders Dr. Amit Goyal and Dr. Dan Ambinder, with mentorship from Dr. Anu Lala, Dr. Robert Mentz, and Dr. Nancy Sweitzer. We thank Dr. Judy Bezanson and Dr. Elliott Antman for tremendous guidance.
Enjoy this Circulation 2022 Paths to Discovery article to learn about the CardioNerds story, mission, and values.
A 67-year-old man with a past medical history of type 2 diabetes mellitus, hypertension, and active tobacco smoking presents to the emergency room with substernal chest pain for the past 5 hours. An electrocardiogram reveals ST segment elevations in the anterior precordial leads and he is transferred emergently to the catheterization laboratory. Coronary angiography reveals 100% occlusion of the proximal left anterior descending artery, and he is successfully treated with a drug eluting stent resulting in TIMI 3 coronary flow. Following his procedure, a transthoracic echocardiogram is performed which reveals a left ventricular ejection fraction of 35% with a hypokinetic anterior wall. Which of the following medications would be the best choice to prevent the incidence of heart failure and reduce mortality?
A
Lisinopril
B
Diltiazem
C
Carvedilol
D
Sacubitril-valsartan
E
Both A and C
The correct answer is E – both lisinopril and carvedilol are appropriate to reduce the incidence of heart failure and mortality.
Evidence-based beta-blockers and ACE inhibitors both have Class 1 recommendations in patients with a recent myocardial infarction and left ventricular ejection fraction ≤ 40% to reduce the incidence of heart failure and to reduce mortality. Multiple randomized controlled trials have investigated both medications in the post myocardial infarction setting and demonstrated improved ventricular remodeling as well as benefits for mortality and development of incident heart failure.
At this time, there is not sufficient evidence to recommend ARNi over ACEi for patients with reduced LVEF following acute MI. The PARADISE-MI trial randomized a total of 5,661 patients with myocardial infarction complicated by a reduced LVEF, pulmonary congestion, or both to receive either sacubitril-valsartan (97-103mg twice daily) or ramipril (5mg twice daily). After a median follow up time of 22 months, there was no statistically significant difference in the primary outcome of cardiovascular death or incident heart failure. At this time, ARNi have not been included in the guidelines for this specific population.
Diltiazem is a non-dihydropyridine calcium channel blocker, a family of drugs with negative inotropic effects and which may be harmful in patients with depressed LVEF (Class 3: Harm, LOE C-LD).
Main Takeaway: 
For patients with recent myocardial infarction and reduced left ventricular function both beta blockers and ACEi have Class 1 recommendations to reduce the incidence of heart failure and decrease mortality.
Guideline Location:
Section 6.1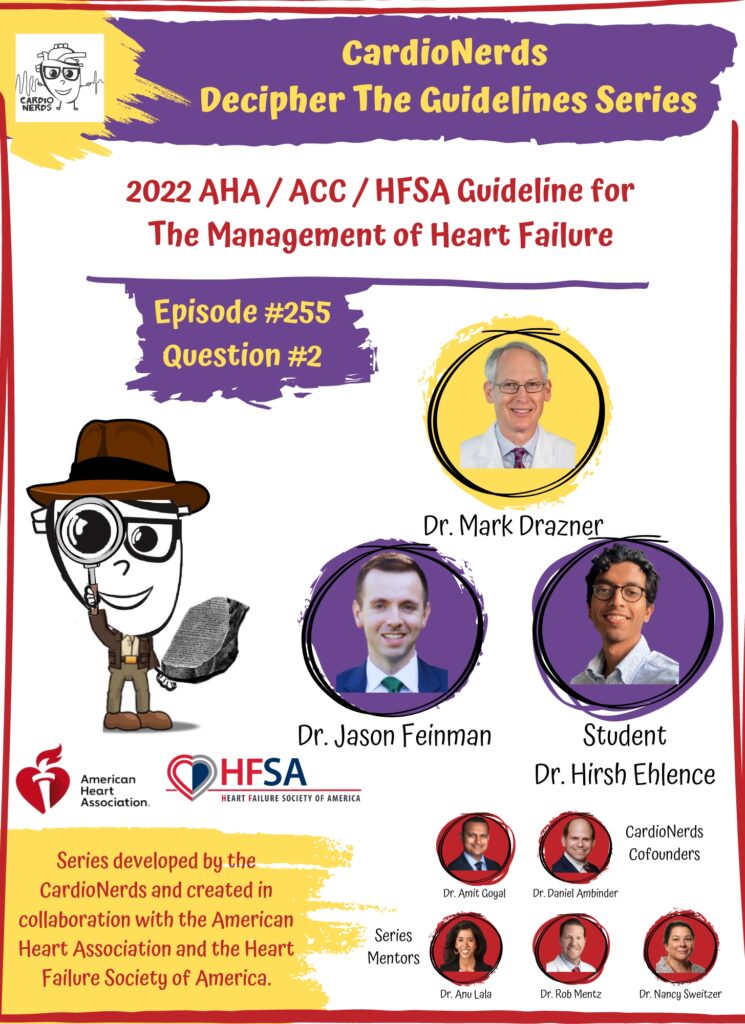 Decipher the Guidelines: 2022 Heart Failure Guidelines Page
CardioNerds Episode Page
CardioNerds Academy
Cardionerds Healy Honor Roll
CardioNerds Journal Club
Subscribe to The Heartbeat Newsletter!
Check out CardioNerds SWAG!
Become a CardioNerds Patron!
---
Download Episode