Built In Texas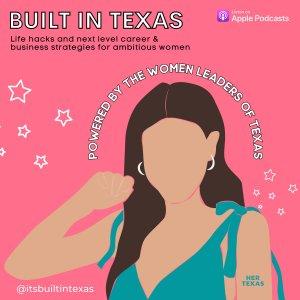 The Business and Culture of Art: Marian Mekhail
March 28, 2022
"To know that I am using the very thing that my ancestors made (Egyptians made paint and paper) to make a living for myself, there is such a deep connection between my culture and my art."
Marian Mekhail's mission as an artist is to inspire her audience to use the gifts they've been given, live fully in their purpose and to seek beauty in all things, all people and all colors. Her Egyptian heritage influences much of her work, subject matter and creative process.
In 2019, Mekhail held her first solo exhibition "Queendom", which had over 250 attendees and raised over $2,000 for the Women's Center of Ft. Worth. She was also commissioned by Dallas Theater Center to create an interactive mural for its Public Works Theater at the Wyly Theater production of "As You Like It" by William Shakespeare. In 2021, she was commissioned by President Michael Sorrell of Paul Quinn College to create a custom crushed glass portrait of prominent Dallas businessman and philanthropist Mr. Trammell S. Crow.
In her latest collection "MAKTUB: It Is Written", she explores topics surrounding modern feminism while also celebrating ancient Egyptian traditions.
In today's episode, we discuss:
the business of art and being a creative
protecting yourself, mentally, creatively and legally
scared money doesn't make money - be strategic
good things take time, especially the return on your investment
the role Marian's culture has played in her art and her experiences living in Texas
the women that inspire Marian personally (and have helped her business grow to the next level)
Why Beyonce is still Queen (and King)!
Connect with Built In Texas HERE
Connect with Marian Mekhail HERE
Connect with host Jasmin Brand HERE
Learn more about Her Texas HERE
Built In Texas is produced by Her Texas, the first statewide organization powered by Texas women looking to shatter glass ceilings, create a seat at the table and thrive in the modern workplace. www.hertexas.co
---
Download Episode