Blk + In Grad School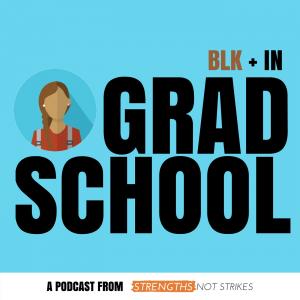 Ep. 66: Personal Branding w/ Fancyfied (Part 2)
April 30, 2019
The chat with Fancy was literally overflowing with gems, it had to become a two-parter!
Continuing last week's conversation about personal branding Lisa Francoeur Mesa of Fancyfied is shedding light on the steps you can take to first set your own "personal company culture and values". Why does this matter? Because When you have our yown personal company values we are better able to share it with others and then attract the right opportunities, i.e. the right advisor, that perfect job, that ideal research area.
And also important, Lisa shares how your personal company culture and values helps you to remain authentic and genuine in every space you occupy, not just the academic space.
A little more about Lisa aka Fancy:
While she kicked off her career as a Fashion Stylist working with Alicia Keys, Paris Hilton, Lil Wayne and Shakira--motivational speaking, empowerment coaching, and personal branding are her passions.  She is the founder of the empowerment lifestyle brand Fancyfied and her vision is to scale empowerment globally. She puts her vision into action by "helping people harness the power of positivity and unity to create, new and favorable possibilities". She has partnered with AARP, LinkedIn, McKinsey, LVMH's (Louis Vuitton Moet Hennessy) Guerlain & Dior Beauty on events, workshops, talks, panels, etc. to do so. She's been featured in Yahoo Finance, Cosmopolitan, Michigan Chronicle & Black Enterprise.
Follow and connect with Fancy on Insta: @fancyfied