Blk + In Grad School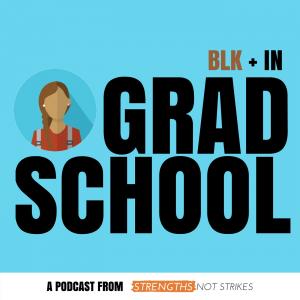 Ep. 65: Personal Branding Fancyfied
April 24, 2019
Whether you're heading to graduate school or finishing up another year (congrats!) your personal brand is critical. Gary Vee says it well, "Your personal brand is your reputation. And your reputation in perpetuity is the foundation of your career." On your already long list of to-do's as a scholar you also have to spend time establishing your authority in the classroom, at conferences and now on #academictwitter. If you don't know the first thing about personal branding, listen to the first part of this 2-episode interview with Lisa Francoeur Mesa of Fancyfied, where she shares her story and provides the reasoning behind why you need to care about your personal brand.
A little more about Lisa aka Fancy:
While she kicked off her career as a Fashion Stylist working with Alicia Keys, Paris Hilton, Lil Wayne and Shakira--motivational speaking, empowerment coaching, and personal branding are her passions. She is the founder of the empowerment lifestyle brand Fancyfied and her vision is to scale empowerment globally. She puts her vision into action by "helping people harness the power of positivity and unity to create, new and favorable possibilities". She has partnered with AARP, LinkedIn, McKinsey, LVMH's (Louis Vuitton Moet Hennessy) Guerlain & Dior Beauty on events, workshops, talks, panels, etc. to do so. She's been featured in Yahoo Finance, Cosmopolitan, Michigan Chronicle & Black Enterprise.
Follow and connect with Fancy on Insta: @fancyfied