Bariatric Surgery Success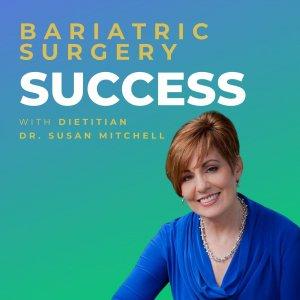 #140: Do You Really Need to Follow the 30-30 Rule: Bariatric Nutrition Q & A
June 14, 2023
You've have weight loss surgery and now you find out that you need to follow some 30-30 rule. Are you surprised? Are you thinking to yourself…what the heck is a 30-30 rule? Why do I need to follow it? And…what if I get something stuck in my throat while I'm eating? Do I follow it forever? Actually, this 30-30 rule can help make your transformation and journey an even greater success. Bariatric dietitians Gayle and Isabel join me to answer your questions and explain why it's beneficial to follow the 30-30 rule and for how long.
Podcast Guests: 
Bariatric Dietitian Isabel Maples, RD
Bariatric Coordinator
UVA Health in Haymarket, Virginia
Email: ggw5ud@uvahealth.org 
Gayle Brazzi Smith MS, RDN, CSOWM, LDN
Registered & Licensed Dietitian
Weight Loss and Bariatric Surgery Institute
Orlando, FL
Email: gayle.brazzismith@orlandohealth.com
Website: OrlandoHealth.com/Bariatrics  
Visit Procarenow.com for all of your vitamin, calcium and protein needs. Use Code: Susan10 to save 10%
You can share the message of hope, healing and transformation with your purchase from NewHopeGirls.com Use code TRANSFORM to save 15%
I want to give a shout out to mdm232323. The 5-star Apple podcast review says "I had sleeve surgery in March and just happen to find your podcast. And what a blessing. I'm listening whenever I can to get through your library of past podcasts to educate myself."
"Thank you so much for posting this 5 star review. I'm glad the podcast has been a blessing and that you gain usable knowledge from them. Keep listening!" 
Questions about the 30-30 rules we discuss:
The 30-30 rule. It's also called the "30-minute rule" and actually, it's very beneficial after surgery. What's it all about? Isabel, what is this 30-30 rule and are there other names for it?
Gayle, are most patients surprised when they hear about this rule?
Does the rule apply to all bariatric surgical procedures Isabel?
Gayle what about your surgical center?
Isabel, here's a question from my Facebook group. Do I really have to wait 30 minutes to have water/any liquid before and after my meal?
Gayle, I've been asked in the Facebook group if this rule has to be followed forever. It's somewhat debatable. In fact, it's not just patients that want to know. You and I were talking about a question that you had from an ICU dietitian. Tell us more.
Isabel, why is it so smart to follow the 30-30 rule? What are the benefits to the body after surgery?
What happens to the body if you don't follow this rule?
---
Download Episode