Bariatric Surgery Success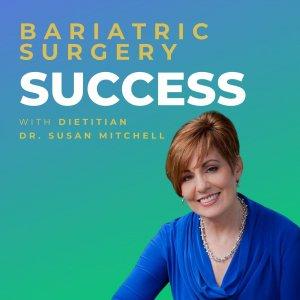 #132 15 Bariatric-Friendly Carbs: Bariatric Nutrition Q & A
February 22, 2023
Do you have concern, maybe even fear about eating carbs after bariatric surgery? You don't want to regain weight from all of your hard work. Grab your digital note pad. You'll want to add these 15 tasty bariatric-friendly carbs to your meals.
Podcast Guests: 
Bariatric Dietitian Isabel Maples, RD
Bariatric Coordinator
UVA Health in Haymarket, Virginia
Email: ggw5ud@uvahealth.org 
Gayle Brazzi Smith MS, RDN, CSOWM, LDN
Registered & Licensed Dietitian
Weight Loss and Bariatric Surgery Institute
Orlando, FL
Email: gayle.brazzismith@orlandohealth.com
Website: OrlandoHealth.com/Bariatrics  
Visit Procarenow.com for all of your vitamin, calcium and protein needs. Use Code: Susan10 to save 10%
You can share the message of hope, healing and transformation with your purchase from NewHopeGirls.com Use code TRANSFORM15 to save 15%
Resources:
How to cut a mango:
https://www.mango.org/how-to-cut-a-mango/
Oh those carbs…the macro you love to hate. Actually we love carbs. Well, let me be a little pickier than that. We love smart carbs, those carbohydrates that are high in fiber and nutrition and low in sugar. In fact, if you missed it, go back and listen to episode #127
Episode #127:
Gayle, Isabel and I answer a lot of your questions. We share why you can eat them, and why it's important to have carbs in your diet.
Today, we're getting even more specific and sharing 15 of our favorite carbs and how to prep or use them in your meals. Remember, we want to focus on smart carbs which are high in fiber and nutrition, and low in sugar.
15 carbs we discuss:
spaghetti squash noodles
plant based high protein pasta
spiralized noodles or zoodles
flatbread pizza
mushrooms
oatmeal
bulgar wheat
freekah
ground flaxseed
wheat germ
white navy beans
black beans
Esquites
medjool dates
mango
---
Download Episode