Bariatric Surgery Success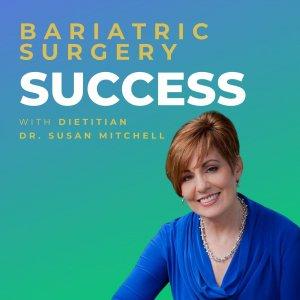 #129 How to Deal with Imposter Syndrome: Bariatric Mental Health Q & A
January 18, 2023
Someone in my Facebook group posted: " have imposter Syndrome with my weight loss accomplishments and I just feel like I don't belong. Kind of like this isn't real, and I don't deserve it and that all this was just beginners luck."
Do you feel this way too? Bariatric psychologist Dr. Connie joins me on the podcast to help you deal with imposter syndrome.
Visit Procarenow.com for all of your vitamin, calcium and protein needs. Use Code: Susan10 to save 10%
You can share the message of hope, healing and transformation with your purchase from NewHopeGirls.com Use code TRANSFORM15 to save 15%
Website: http://www.conniestapletonphd.com
BariAftercare: The Podcast; available on phone podcast apps, Apple podcasts and most other podcatchers 
Mind Prep The Book: How To Prepare for Bariatric Surgery and Live as a Healthy Post-Op: Mind Prep: The Book
BariAftercare Daily Progress Journal 
Questions that Dr. Connie and I discuss:
What is imposter syndrome and then how is it specific to our bariatric listeners? 
What type of things happen in life or what are the reasons that people experience imposter syndrome?
By the way, is imposter syndrome considered a mental health disorder? 
So what I'm hearing you say is that imposter syndrome can affect anyone but it affects those who've had bariatric surgery in specific ways to their situation…much like nutrition.
Are there mental health issues associated with imposter syndrome? 
Let's get to the nitty gritty of how can we deal with it? How can our listeners go about combatting imposter syndrome?
Rate, Review & Follow on Apple Podcasts:
"I love Dr. Susan and Bariatric Surgery Success." If this sounds like you, would you please rate and review my podcast? Click here. Then click on "Listen to Apple Podcasts" at the top. Scroll down to where you see Ratings & Reviews and tap on "Write a Review". Yes, I'd love a 5 star review! LOL Be sure and let me know what you love most about the podcast. Thank you for your time! 
If you haven't followed the podcast, be sure to Follow/Subscribe now so you never miss an episode.
---
Download Episode