Bariatric Surgery Success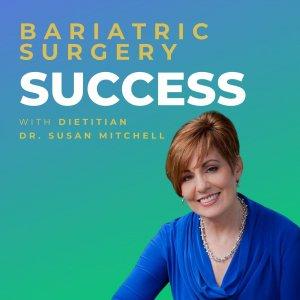 #108 Bariatric Surgery and Covid: 5 Nutrition Strategies to Help You Recover
August 03, 2022
You've had weight loss surgery and now you have Covid. What should you eat and drink? How does Covid affect your bariatric diet? Nutrition can play a definite roll in your recovery, support your immune system and have an anti-inflammatory effect but you want to be smart in how you care for yourself. I'll share 5 nutrition strategies in this episode of the Bariatric Surgery Success podcast.
Visit Procarenow.com for all of your vitamin, calcium and protein needs. Use Code: Susan10 to save 10%
New Hope Girls Giveaway:
Our giveaway is a beautiful tote in the Slate Surface pattern valued at $62.
You can register to win the tote in our random drawing by answering two questions and sending your name and email to contactus@breakingdownnutrition.com 
Questions:
#1 What do you like best about the Bariatric Surgery Success podcast?
#2 If you could change something about the podcast, what would it be? 
Look at and read about tote: https://bit.ly/3PPVORl
Or use code Transform15 any time to save 15% on your order
Deadline to enter is midnight, August 12
Private FB Group link: https://www.facebook.com/groups/bariatricsurgerysuccesswithdrsusanmitchell
If you've recently had surgery and are nauseated, vomiting, have diarrhea, short of breath…all factors that can affect what you eat and when, please check in with your health care team. See if they have someone on call to discuss your symptoms and how to manage them. Regardless of how far out you are from surgery, never hesitate to contact your health care provider if you have symptoms and know you need answers and care.
5 strategies discussed in this episode:
Foods for immune support and anti-inflammatory benefits
When to have full liquids and soft foods; what about protein
Eating with a sore throat or shortness of breath
Coping with changes in taste and smell
What to do if food taste bitter or metallic
---
Download Episode