Bariatric Surgery Success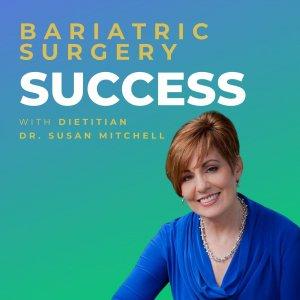 #100 Bariatric Mental Health Q & A #9: Your Questions Answered
June 01, 2022
This comment was part of a discussion in my facebook group: "I had bariatric surgery and now my food issues have become alcohol issues." Well, this happens and it's called transfer addiction. Psychologist Dr. Connie Stapleton, who specializes in bariatric surgery, is with me to explain transfer addiction, how you can prevent it and what to do if it happens. 
Visit Procarenow.com for all of your vitamin, calcium and protein needs. Use Code: Susan10 to save 10%
Dr. Connie's info:
Website: http://www.conniestapletonphd.com
BariAftercare: The Podcast; available on phone podcast apps, Apple podcasts and most other podcatchers
Podcast episode #30: Bariatric Surgery and Alcohol Buzz: What You Need to Know
Transfer addiction is a term most people even medical professionals have never heard of so let's dive right in and start with the basics and then get a lot of your questions answered by Dr. Connie including:
What exactly what is transfer addiction?
How common is transfer addiction after weight loss surgery?
Is the transfer addiction to alcohol common and what are some of the other common transfer addictions to know about?
What makes a person more susceptible to transfer addiction?
What can I do to prevent this from happening?
What do I do if I realize there is a problem now?
Takeaways to know.
"I love Dr. Susan and Bariatric Surgery Success." If this sounds like you, would you please rate and review my podcast? Click here. Then click on "Listen to Apple Podcasts" at the top. Scroll down to where you see Ratings & Reviews and tap on "Write a Review". Yes, I'd love a 5 star review! LOL Be sure and let me know what you love most about the podcast. Thank you for your time! 
If you haven't followed the podcast, be sure to Follow/Subscribe now so you never miss an episode.
---
Download Episode