Bariatric Surgery Success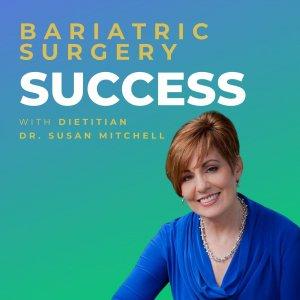 #88 Bariatric Mental Health Q & A #7: Your Questions Answered
March 09, 2022
Are you feeling anxious today? Has the COVID pandemic brought out anxiety you didn't have before or increased any anxious feelings you did have? Psychologist Dr. Connie Stapleton, who specializes in bariatric surgery, is with me today on this episode of Bariatric Surgery Success and gets right to it with the answers you need now.
Visit Procarenow.com Use Code: Susan60 to get a free bag of protein powder with $60 purchase
Please Rate, Review & Follow on Apple Podcasts:
"I love Dr. Susan and Bariatric Surgery Success." If this sounds like you, would you please rate and review my podcast? Click here. Then click on "Listen to Apple Podcasts" at the top. Scroll down to where you see Ratings & Reviews and tap on "Write a Review". Yes, I'd love a 5 star review! LOL Be sure and let me know what you love most about the podcast. Thank you for your time! 
If you haven't followed the podcast, be sure to Follow/Subscribe now so you never miss an episode.
Joining me is Atlanta-based psychologist Dr. Connie Stapleton. If you're a regular listener, you know that Dr. Connie has vast experience in the mental health apect of bariatrics. She gets right to the core of the issues and today she's doing that with anxiety and shares practical ways for you to improve your relationships with food, other people and most importantly with yourself.
Website: http://www.conniestapletonphd.com
BariAftercare: The Podcast; available on phone podcast apps, Apple podcasts and most other podcatchers
Questions that I ask Dr. Connie today about anxiety:
Explain what anxiety is from a mental health aspect and what triggers it?
Is anxiety associated with other psychological/mental health or physical symptoms?
What about the use of medications, especially benzodiazepines?
How can you prevent or control anxiety in an anxiety producing situation like COVID?
If anxiety goes uncontrolled, can it progress to other conditions?
What is the tie between anxiety and binge eating, night eating syndrome or other over eating behaviors?
Take away tips.
---
Download Episode