Bariatric Surgery Success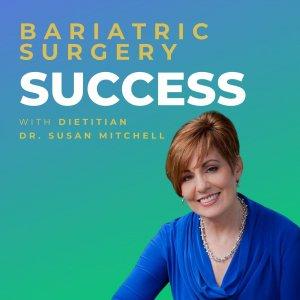 #80 3 Benefits of the MIND Diet for Bariatric Surgery
January 12, 2022
Did you know that the MIND Diet is tied to better brain function, particularly as you age? What is it about this diet that is also good for bariatric surgery? In this episode I'll share three benefits to you.
Procarenow.com for free samples. Use Code: Susan10 to save 10%
Thank you for giving your time to listen. Because you do listen, FeedSpot selected the Bariatric Surgery Success podcast as one of the BEST 35 Dietitian Podcasts in 2021. It was selected from thousands of podcasts on the web ranked by traffic, social media followers, domain authority & freshness. You helped make this happen and I'm very grateful.
Wondering what brain-healthy foods the MIND diet focuses on? The foods include:
Green leafy vegetables
All other vegetables with a limit on starchy ones
Berries
Nuts
Olive oil
Whole Grains
Fish
Beans 
Poultry
What makes the Mind Diet beneficial to bariatric surgery? Here are three benefits covered in detail:
Better brain function over time.
2. Brain-healthy foods boost your fiber intake.
3. Brain-healthy foods are anti-inflammatory foods.
Rate, Review & Follow on Apple Podcasts:
"I love Dr. Susan and Bariatric Surgery Success." If this sounds like you, would you please rate and review my podcast? Click here. Then click on "Listen to Apple Podcasts" at the top. Scroll down to where you see Ratings & Reviews and tap on "Write a Review". Yes, I'd love a 5 star review! LOL Be sure and let me know what you love most. Thank you for your time.
---
Download Episode