Bariatric Surgery Success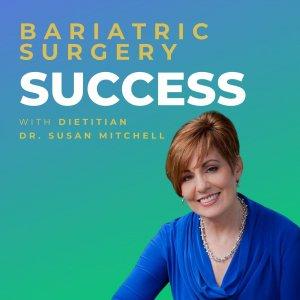 #79 Bariatric Nutrition Q & A #6: Your Questions Answered
January 05, 2022
Procarenow.com for free samples. Use Code: Susan10 to save 10% 
Bariatric Dietitian guests:
Isabel Maples, RD
Fauquier Health Weight Loss Surgery
Email weightloss@fauquierhealth.org
isabel.maples@fauquierhealth.org 
Gayle B.Smith:
Website: OrlandoHealth.com/Bariatrics  
gayle.brazzismith@orlandohealth.com
I want to give a Shout Out to Marie from Australia. Thank you for your email to let me know that you listen to the podcast and find it fantastic. It's feedback like yours that makes it all worthwhile.
You requested and I'm happy to announce that Gayle and Isabel will be regulars on the podcast this year. You can expect to hear from them every 6 weeks. Do you have a question you want Isabel and Gayle to answer? Post it anytime if you're in the private Facebook Group or join us Bariatric Surgery Success with Dietitian Dr. Susan Mitchell. Or go right to my website, Breaking Down Nutrition and there's a contact us link at the top of the home page. Or hit reply to the weekly newsletter if you receive it. If not, why not? You can sign up for it on the home page of the website.
As part of out new year kick off, Gayle, Isabel and I talk about proven tips that we believe in and have had success with over the years because they work in every day life.
Listen to the episode to hear about exercise ideas and strategies, how to deal with guilt when you eat a 'bad' food and what you get for giving up something else. You don't want to miss these real-world strategies for a successful 2022.
Choose one or two of these tips and put them into play now. Set aside 20 minutes for a walk or two several times a week. Put it in your calendar as a to-do. Remember our saying about guilt too. No guilt allowed in 2022. YOU are worth it.
---
Download Episode