Bariatric Surgery Success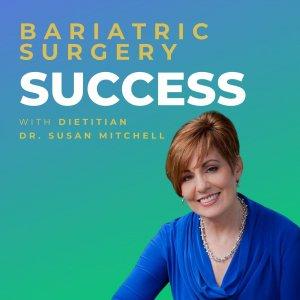 #77 Friends Will Beg for This Chocolate Recipe
December 15, 2021
Procarenow.com for free samples. Use Code: Susan10 to save 10%
Every holiday season several of my friends and my husband ask…"Hey, are you going to make that chocolate peanut treat? I want some." In this episode I'll share my favorite, fast, go-to chocolate recipe. You won't believe how easy it is.
Did you already ask yourself…can I have chocolate? I hope you answered yourself YES and remembered when I'm down the track from surgery, according to Dr. Susan, I can have small amounts of the foods I love. 
Video on how to make Chocolate Peanut Butter Crunch Clusters
Here's what you need:
1/2 cup natural peanut butter, creamy or crunchy
2 cups dark chocolate chips or chunks
2 cups unsalted or lightly salted, dry roasted peanuts 
Combine the peanut butter and the chocolate chips in a large microwavable bowl and microwave 30-40 seconds at a time on medium power until melted. Stir to blend the chocolate and the peanut butter.
Stir in the chopped peanuts.
Spoon the mixture onto parchment paper or wax paper about a tablespoon at a time. Chill in the fridge until firm. 
Listen to the episode for all the deets.
Chocolate has health benefits. There are several you'll be happy to know. The naturally found flavonoids in chocolate may improve blood flow, reduce blood pressure and lower lousy or LDL cholesterol. I bet you never thought that chocolate is a source of fiber. The undigested fiber in cocoa is broken down in the gut and can be combined with prebiotics to produce anti-inflammatory compounds. There's a lot more information in episode #40 if you missed it: 3 Surprising Health Benefits of Chocolate. It goes in depth on dumping syndrome, ingredients you don't want in your chocolate, etc.
We're just a few weeks away from a fresh new year. Be sure and sign up now for my weekly Breaking Down Nutrition newsletter. You'll be the first to know about new freebies, upcoming courses, tips, product discounts and of course, the latest podcast episode. It's super easy to sign up on my home page https://www.breakingdownnutrition.com 
While you're on the homepage, join me in the private Facebook group, the Bariatric Surgery Success community. You'll see the JOIN button on the homepage.
If you need a festive meal plan for the holidays, go get this freebie. The meal plan comes complete with appetizer, entree, side and dessert plus the recipes and color photos of each recipe. It's available now to the end of December and you can find it on my homepage too.
---
Download Episode