Bariatric Surgery Success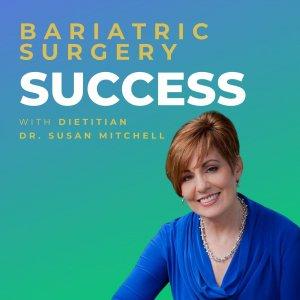 #69 5 Surprising Benefits of Tea after Bariatric Surgery
October 13, 2021
Procarenow.com for free samples. Use Code: Susan10 to save 10%
Drink more fluids, stay hydrated. These words probably run thru your mind many times a day especially after weight loss surgery. Where does tea fit in your fluid count? Is it smart for you to drink it? You're going to like these five benefits of tea after surgery.
Hi, I'm registered dietitian nutritionist Dr. Susan Mitchell. You're listening to the Bariatric Surgery Success podcast episode number 69. Most of my career I've worked in some type of media, particularly radio where I did morning drive nutrition spots for over 18 years. That's what lead me to start podcasting and ultimately to you. I created Bariatric Surgery Success to provide you with life-changing information based on science along with simple strategies and tools to help you be successful in your transformation and your entire journey. So happy you've connected with me. You're in the right place and I'm glad you're listening.
Joining me today via Skype is Texas-based registered dietitian nutritionist Neva Cochran. Neva is a nutrition communications consultant to a variety of food, nutrition and agricultural organizations. She's passionate about promoting fact-based food and nutrition information to help you eat beyond the headlines and enjoy a variety of nutrient-rich foods.
Contact information for dietitian Neva Cochran:
Twitter: https://twitter.com/NevaRDLD
Instagram: https://www.instagram.com/nevardld/
Facebook: https://www.facebook.com/NevaRDLD/
YouTube: http://www.youtube.com/user/nhcrd
Welcome Neva. Listen as Neva talks about the many benefits of tea.
She addresses how tea counts in your daily fluid intake, caffeine amounts in tea versus coffee, tea and depression, tea and diabetes/blood glucose and if tea dehydrates you.
---
Download Episode