Bariatric Surgery Success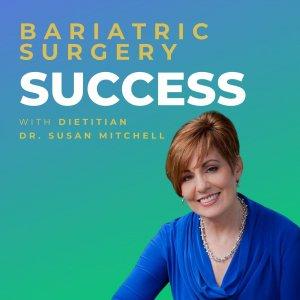 #58 Bariatric Mental Health Q & A: Your Questions Answered #2
July 28, 2021
Recently someone posted this question in my Facebook group: how do I stop fighting my brain over tempting food? Well, stay right where you are. She's back! Psychologist Dr. Connie Stapleton, who specializes in bariatric surgery and helps you deal with life's stuff, is here to answer questions about your relationship with food.
Hi, I'm registered dietitian nutritionist Dr. Susan Mitchell. You're listening to the Bariatric Surgery Success podcast episode number 58. Most of my career I've worked in some type of media, particularly radio where I did morning drive nutrition spots for over 18 years. That's what lead me to start podcasting and ultimately to you. I created Bariatric Surgery Success to provide you with life-changing information based on science along with simple strategies and tools to help you be successful in your transformation and your entire journey. So happy you've connected with me. You're in the right place and I'm glad you're listening.
Joining me today via Skype is Atlanta-based psychologist Dr. Connie Stapleton. Dr. Connie uses her vast experience to share practical skills for improving your post op relationships with food, other people and most importantly your relationship with yourself. Basically, as I mentioned at the beginning of the podcast, she teaches you better ways to deal with life's stuff
Dr. Connie's Contact Info:
Website: http://www.conniestapletonphd.com
BariAftercare: The Podcast; available on Apple podcasts and most other podcatchers
Dr. Stapleton's hosts "Fair and Firm" retreats for bariatric patients. At each retreat, participants address struggles in their relationship with food, issues related to regain, and the frustration related to emotional eating and food addiction.
It's time to sign up for the next retreat, scheduled for September 1st – September 5th. Arrive on the evening of the 1st, meet your fellow retreat attendees, relax and get a good night's sleep. The next three days are filled with education, activities, movement, relaxation (to include a massage if you would like one), discussion and laughter. Learn more about yourself, your relationship with food and how to move through barriers related to eating that keep you from fully engaging in the life you want to live.
Depart on Sunday, early afternoon and take home new information about yourself and a host of skills for relaxation, mindfulness, avoiding emotional eating, and dealing with food addiction.
Each participant has a full size bed. All bath and hair products, to include hair dryers are provided, although participants are welcome to bring their own products. All meals and snacks are provided and are bariatric-specific. Special food needs will be accommodated.
For more information, email Connie@conniestapletonphd.com
S: Welcome back to the podcast, Dr. Connie!
S: When you were here three or four weeks ago, my listeners loved your information and have a lot more questions so we're going to get right to it. In my opinion, today's media messages feed us unrealistic expectations of how we should look and what we should eat which then can be a part of unhealthy relationship with food.
At the beginning I mentioned that this question was posted to my Facebook Group: how do I stop fighting my brain over tempting food? Dr. Connie, a lot of people refer to having a relationship with food but I don't think the concept is well understood.. Would you talk about fighting with the brain and explain what having a relationship with food means?
Q2: My relationship with food seems to flow with my relationship with my significant other. When he and I are at a good place in our relationship, I seem to be better able to stay away from sweets for the most part. When he and I argue, it seems I have a really hard time not wanting to eat chocolate, candy or ice cream. What are your thoughts about that?
Q3: I do well in terms of following my food plan during the day but when I come home, I struggle to maintain that healthy daytime relationship with food throughout the evening. Do you have any suggestions?
Q4: I developed an unhealthy relationship with food when I was around ten years old. I started coming home from school to any empty house. I was scared, lonely and often bored at home by myself. If I ate, I was distracted from those feelings. I recognize I am an emotional eater, but I still struggle to not turn to food any time I feel even close to how I felt when I was alone after school as a kid. How can I overcome this?
S: Whether you've had surgery or not, these questions can apply across the board to so many of us. Take time to think about the thoughts Dr. Connie shared and how they can apply to your daily life. Decide what works best for you. You're worth it!
---
Download Episode