Bariatric Surgery Success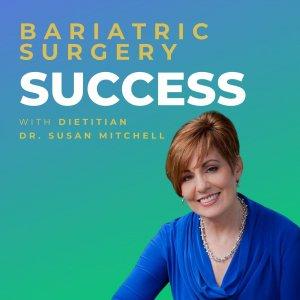 #51 Bariatric Mental Health Q & A: Your Questions Answered
June 09, 2021
Lynn asks, "How do I deal with feeling self conscious about my loose hanging skin and new found wrinkles after surgery?" And Liz wants to know, "What are ways to get yourself to enjoy exercise?" Don't go anywhere, psychologist Dr. Connie Stapleton, who specializes in bariatric surgery and helps you deal with life's stuff, joins me today to answer your questions.
Hi, I'm registered dietitian nutritionist Dr. Susan Mitchell. You're listening to the Bariatric Surgery Success podcast episode number 51. Most of my career I've worked in some type of media, particularly radio where I did morning drive nutrition spots for over 18 years. That's what lead me to start podcasting and ultimately to you. I created Bariatric Surgery Success to provide you with life-changing information based on science along with simple strategies and tools to help you be successful in your transformation and your entire journey. So happy you've connected with me. You're in the right place and I'm glad you're listening.
I'd like to give a shout out this week to Jen who made this comment on Facebook: "I am pre-op right now. I love listening to your podcast. You provide awesome insight!" Thank you Jen. I think you're pretty awesome for taking time to tell me. I hope to continue to provide lots of insight for your journey and can't wait to hear about your success.
Joining me today via Skype is Atlanta-based psychologist Dr. Connie Stapleton. Dr. Connie uses her vast experience to share practical skills for improving your post op relationships with food, other people and most importantly your relationship with yourself. Basically, as I mentioned at the beginning of the podcast, she teaches you better ways to deal with life's stuff.
Resources:
Website: Psychologist Dr. Connie Stapleton http://www.conniestapletonphd.com
BariAftercare: The Podcast; available on Apple podcasts and most other podcatchers
---
Download Episode