Best BBQ Show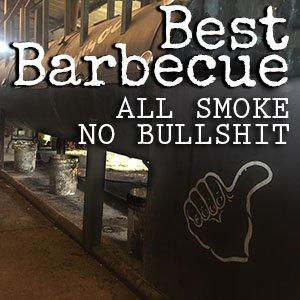 #142 Backline Fabrication
May 18, 2020
Thanks for listening to the show. I hope you are all safe and at home. This week's episode is with Ryan Newland. He's one of the last people I interviewed before the COVID-19 an important part of the BBQ community.
From Bangers to Liberty to Estrada's BBQ he's making all kinds of tools for the BBQ cook. I spent a few weeks hanging in his shop and if you want to see the footage subscribe right now to the youtube channel and you'll be notified when I post it.
Unlike many of my other interviews there was no smokey smell. We were in a room full of metal and tools. There was a bit of that ozone smell you get from a welder hanging in the air. He has a ton of equipment, a forklift, empty tanks, cutting, welding and bending tools.
We sat down next to a giant propane tank that was on it's way to becoming the shop pit for Backline. If you check the Backline Fabrication Instagram you can see pictures of all the pits they've made including the newest shop pit.
His shop is also unique because they throw a party every time a pit is finished. Ryan loves the community and even brings in local cooks to make the food for his events.
I'll take any excuse to go out to the Texas hill country. Driving the windy roads west of Austin is a nice break from the city. I hope you enjoy this long conversation with Ryan Newland of Backline Fabrication.
---
Download Episode