Best BBQ Show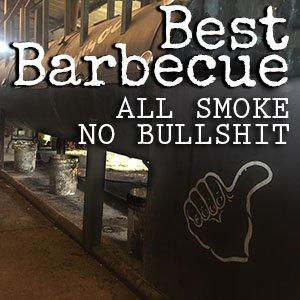 #135 Matt's BBQ Crew
February 03, 2020
Thank you for listening to the show. Every time you listen a brisket gets juicier.
This week I sit down with Matt of Matt's BBQ in Portland and his entire BBQ crew. Recently named "the best Texas BBQ scene" outside of Austin by Daniel Vaughn, Portland is starting to pop up on people's radar. If you know my LA episodes you know there's a lot of Texas BBQ on the west coast in general. 

There were 9 people at the table but we passed the mics around and got tons of stories from the crew. Play back the beginning if you want to hear who's who. I ran into them at Snow's and talked them into sitting down with me the next day to talk BBQ. I think one of the most interesting things about Texas BBQ in other cities is that they have their own way of doing everything.
These guys do their food their way. The basics are Texas BBQ and they're about to get a whole pitroom full of offset smokers. The rest is their creative freedom. Matt has created a Thai BBQ joint and a taco spot as well as his flagship restaurant. They're definitely a spot to watch especially if you're in the northwest. I love Portland and I hope to make it up there very soon to try Matt's food for myself.
If you like the show please take a moment to give us 5 stars on your podcast app. Also, jump in on the Instagram, Facebook, and Youtube to see more about my adventures and the amazing BBQ community of the world.
Thank you!
---
Download Episode