Best BBQ Show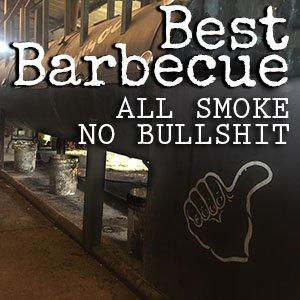 #120 Gold Land BBQ
September 16, 2019
A few weeks ago I spent a weekend with Joey Rubin and Joshua Luce from Gold Land BBQ. They had the full experience when they came into town. The moment they landed Friday night they were on their way to The Brewer's Table where they would be cooking Sunday BBQ. Then on to Justine's Brasserie where we spent the evening eating escargot and sharing a table full of delicious plates with friends and strangers. I love Justine's because they have Kronenburg 1664 which is a French lager and goes well with anything. If you know me you know lagers are my favorite kind of beer.
I made Joey and Joshua wake up early Saturday to take the beautiful drive to Snow's BBQ. I thought if two guys who love BBQ are coming to Texas, the full experience was required. They ate like kings and drove back inspired. I go to Snow's often and see many of my friends there. Joey and Joshua were right at home.
On Sunday they cooked in the open fire hearth at The Brewer's Table for a truly unique crowd. The names Joey Rubin and Joshua Luce were already known in Austin and they have a lot of friends here. One in particular was part of Greensbury who provided all the meat for the event. They're similar to butchers box and I'll be investigating them soon.
Even though they have a restaurant to run they decided to create Gold Land so they could cook Santa Maria style all over the world. Their passion is palpable and I was lucky to get them on the mic. They were in town for barely 48 hours. Enjoy this conversation with Joey Rubin and Joshua Luce of Gold Land BBQ.
Follow them on Instagram @goldxland, @joey.rubin, @joshualuce
---
Download Episode