Been All Around This World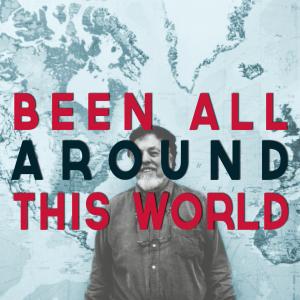 S2 E4 - "Making It In Hell": Parchman Farm, 1933–1969
February 07, 2020
Brutality and inhumanity were central to the Southern state prison farms, in their theory and their practice, and of them all, the Mississippi State Penitentiary at Parchman Farm was the most brutal and inhuman. Both John A. and Alan Lomax made repeated visits to Parchman, recording — under the eye of the disinterested white captains, sergeants, and warden, and the guns of the "trusty" prisoner-guards — a body of American song unmatched in its depth, dignity, and power. 

Folklorist and prison documentarian Bruce Jackson once said that the group work songs sung by the black inmates of the Southern penitentiary farms were means of "making it in Hell." Alan Lomax, writing in 1947, said that: "In the pen itself, we saw that the songs, quite literally kept the men alive and normal.... These songs, coming out of the filthy darkness of the pen, touched with exquisite musicality, are a testimony to the love of truth and beauty which is a universal human trait." In this episode, spurred by the ongoing horrors being reported in the Mississippi Department of Corrections in general and at Parchman in particular, we listen back over the four decades of recordings made by the four white folklorists (the Lomaxes, Herbert Halpert, and William Ferris) who took the trouble to visit the place and document the singing of its prisoners: work songs for clearing ground, felling trees, picking cotton, or breaking rocks, as well as solo field hollers, spirituals, and blues.

No one can mourn the passing of this song tradition and the system of black disenfranchisement and white supremacy that made it necessary to its singers. But, despite the 1971 class-auction lawsuit that forced federal reorganization of Parchman due to its epidemic use of "cruel and unusual punishment," it's only differently awful in 2020. In his harrowing "Worse Than Slavery: Parchman Farm and the Ordeal of Jim Crow Justice," Michael Oshinsky provides a 1975 quote from a convict named Horace Carter, who'd been at Parchman for fifty years. What was missing in the "new" Parchman, Mr. Carter said, was "the feeling that work counted for something… awful bad as it was in most camps, that kept us tired and kept us together and made me feel better. I'm not looking to go backwards. I know the troubles at old Parchman better than any man alive. I'm 73 years old. But I look around today and see a place that makes me sad."  

This episode was completed before the announcement that William Barr's Justice Department will open a civil rights investigation into conditions at Parchman. It's hard to imagine an administration with less sympathy for incarcerated people of color, but who knows, maybe, at last, Parchman Farm will be shuttered for good. 



"These songs are a vivid reminder of a system of social control and forced labor that has endured in the South for centuries, and I do not believe that the pattern of Southern life can be fundamentally reshaped until what lies behind these roaring, ironic choruses is understood." —Alan Lomax, 1958

For streaming audio of all of Alan Lomax's 1947, 1948, and 1959 Parchman Farm recordings, visit research.culturalequity.org.





PLAYLIST:

[Bed music:] Unidentified ensemble, including Lonnie Robertson, guitar, and possibly "Black Eagle," cornet. Camp 1, April 1936.

*Frank Devine and unidentified man: In the Bye and Bye. Unidentified camp, August 1933.

*Bowlegs (real name unknown): Drink My Morning Tea. Camp 12, August 1933.

*Unidentified men: He Never Said A Mumblin' Word. Unidentified camp, August 1933.

*M.B. Barnes, Louella Dade, Passion Buckner, Alberta Turner, Bertha Riley, Lily Mallard, Christine Shannon, and Josephine Douglas: Oh Freedom. Women's camp, April 1936.

*Big Charlie Butler: Diamond Joe. Unidentified camp, March 1937.
[Bed music:] John Dudley: Cool Drink of Water Blues. Dairy camp, October 1959. 

*Mattie May Thomas: Workhouse Blues. Women's camp, May 1939.

*"22" (Benny Will Richardson) and group: It Makes A Long Time Man Feel Bad. Camp B, November or December 1947.

*Ervin Webb and group: I'm Goin' Home. Dairy camp, October 1959.

*Johnny Lee Moore, Henry Mason, Ed Lewis and James Carter: Tom Devil. Camp B, October 1959.

[Bed music:] James Carter and group: Poor Lazarus. Camp B, October 1959.

*Unidentified prisoners: Water Boy Drowned In the Mobile Bay. Unidentified camp, August 1968.

*Heuston Earms: Ain't Been Able to Get Home No More / interview. Camp B, October 1959.


---
Download Episode