Been All Around This World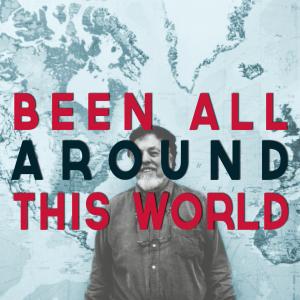 08 - The Southern Journey at 60
September 05, 2019
The Fall 2019 season of the program will commemorate the 60th anniversary of the so-called "Southern Journey" field-recording trip and explore various regions, traditions, and performers Lomax and Collins visited and recorded. This first episode is a (highly cursory) survey.
1. Hobart Smith: Railroad Bill. Bluefield, Virginia, August 25.
2. Texas Gladden: Whole Heap of Little Horses. Salem, Virginia, August 26.
3. Charlie Higgins, Wade Ward, and Bob Carpenter: Did You Ever Seen the Devil, Uncle Joe? Galax, Virginia, August 31.
4. Fred McDowell with Fanny Davis and Miles Pratcher: Gravel Road Blues. Como, Mississippi, September 22.
5. Ed Young, Lonnie Young, Sr., and Lonnie Young, Jr.: Church I Know We Got Another Building. Como, Mississippi, September 21.
6. Ed Lewis and group (consisting of, at least, Wesley Lee Brown, Oscar Crosby, Robert Lewis, Willie Matthews, John Edmonds, Willie P. Roberts, and Henry Mason): I'll Be So Glad When the Sun Goes Down. Camp B, Parchman Farm (Mississippi State Penitentiary), September 19 or 20.
7. Vera Ward Hall: Wild Ox Moan. Livingston, Alabama, October 10.
8. Almeda Riddle: Rainbow Mid Life's Willows. Heber Springs, Arkansas, October 6 or 7.
9. Big John Davis and the Spiritual Singers of Coastal Georgia (soon to be renamed the Georgia Sea Island Singers): Moses, Don't Get Lost. St. Simons Island, Georgia, October 12.
---
Download Episode