Been All Around This World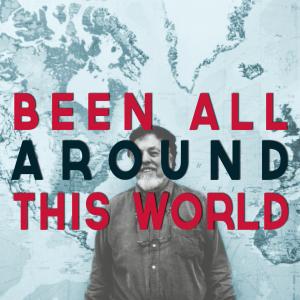 S1 E2 - Baby, It Must Be Love
February 13, 2018
A selection of songs concerning love in its vagaries, timed for Valentine's Day. Performances from Atlanta, Georgia; Cajun Louisiana; Scotland; Southwest Virginia; Turkmenistan; Eastern Kentucky, and the Arkansas Ozarks.
Playlist:
1. Blind Willie McTell: King Edward Blues. Recorded by John A. Lomax in Atlanta, Georgia, November 5, 1940.

2. Isla Cameron: Died for Love. Recorded in London, England, February 11, 1951.

3a. Ella Hoffpauir: Papier d'épingles. Recorded by John A. and Alan Lomax in New Iberia, Louisiana, August 1934.
3b. Mr. & Mrs. John Mearns: Pennyworth O' Preens. Recorded in Aberdeen, Scotland, on July 15, 1951.
3c. E.C. and Orna Ball: Paper of Pins. Recorded in Rugby, Virginia, August 30, 1959.

4. Gurbandurdy Jeng Ienov and ensemble: You Are Beautiful. Original recording date unknown; dubbed by Alan Lomax at Radio Moscow, August 1964. (Notes read: singer Mr. Gurbandury Ienov, accompanied himself on dutar, with gyjak and 2 dutars.)

5. Harvey Porter: Since You Have Disdained Me. Recorded in Salyersville, Kentucky, on October 23, 1937.

6. Almeda Riddle: The Lonesome Dove. Recorded in Greers Ferry, Arkansas, on October 6 or 7, 1959.

7. Primitiva Amado Díaz, Balbina Díaz-Jiménez, and Marcelina Díaz-Jiménez: The Wedding of Inisilla and Brilliante. Recorded in Arroyo de la Luz, Extremadura, Spain on October 4, 1952.

---
Download Episode