Balanced Mind with Julie Potiker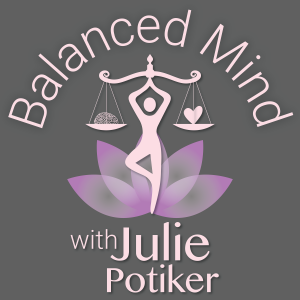 Grounding Love Meditation
January 31, 2023
Ground yourself to the earth and breathe in love for yourself and those around you. Julie Potiker completes this guided meditation with her poem, "Hardware Store Love".


Hardware Store Love by Julie Potiker
I love the smell of hardware stores.
Dixieline, Ace, and Home Depot
They remind me of the J & B Discount Store in Elyria, Ohio.
My dad opened this magnificent place when I was just a girl.
He drove a great distance every day to keep us in better schools.
When I read about huge pileups on the Ohio Turnpike in the snow
I think of all he sacrificed so we could learn and grow.
Grow in a place that had people like us, where antisemitism would be less major.
Because Hanukkah candles would be lit in the homes of many of our neighbors.
On special occasions I would travel to his big, wonderful store where employees were like family.
My father, they adored.
I'd wander the isles of plumbing, tools, shampoos, clothes, and toys and think about how lucky I was to have all this and more.
Whenever I feel a longing to connect with my fabulous dad, I can take a big stroll through a discount store.
For that I will always be glad.
Hardware Store Love, by Julie Potiker
Find out more about using mindfulness in everyday life through Julie's books, "SNAP: From Calm to Chaos", and "Life Falls Apart, But You Don't have To: Mindful Methods for Staying Calm in the Midst of Chaos". Both are available on Amazon.com.
Follow Julie on YouTube and Facebook at Mindful Methods for Life.com


This podcast is available on iTunes, iHeart, Blubrry and everywhere you listen to podcasts.
---
Download Episode