Balanced Mind with Julie Potiker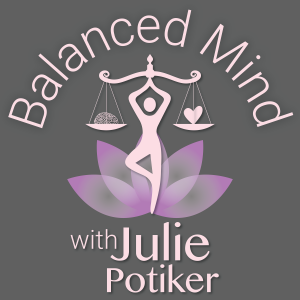 Breath Meditation with Christmas Morning Poem
December 31, 2022
A guided meditation to quiet your mind as you breathe in compassion and peace. Julie Potiker completes the mediation with her poem, "Christmas Morning Meditation".
-Christmas Morning Meditation, by Julie Potiker
The carob trees are packed with bees
A susurrus of sound
My mind this morning a busy place
Thoughts bouncing all around
I drop my awareness to my feet
Plant them firmly on the ground
Return my awareness to my breath
And let myself drop down
Down to peace and quiet
At least for just a bit
Then pop pop comes another thought
This one could make me quit
I give myself a hug and smile
I see where this is going
A poem is arising
From yesterdays brave knowing
A woman shared her challenge
In quieting her mind
I said the work is noticing
And bringing it back each time
I know she has inspired me
To create this little rhyme
To those that meditated with me
yesterday
I thank you - it was sublime!
Christmas Morning Meditation by Julie Potiker.
Find out more about using mindfulness in everyday life through Julie's books, "SNAP: From Calm to Chaos", and "Life Falls Apart, But You Don't have To: Mindful Methods for Staying Calm in the Midst of Chaos". Both are available on Amazon.com.
Follow Julie on YouTube and Facebook at Mindful Methods for Life.com
This podcast is available on iTunes, iHeart, Blubrry and everywhere you listen to podcasts.




---
Download Episode