Balanced Mind with Julie Potiker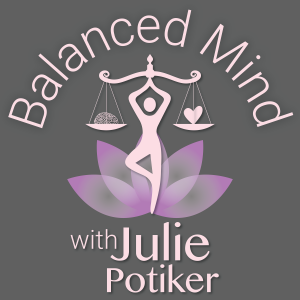 Loving Kindness Guided Meditation
December 08, 2022
Receive and pass along loving kindness through this guided meditation led by Julie Potiker. She completes the meditation with a reading of a poem, "Prayer", by Elaine Starkman.


Prayer, by Elaine Starkman


lord, let my soul
sour above my room
let her dance on the walls
to songs of violins
leap rooftops
to pages of poetry
praise
an orange, a horse
a mountain, a breeze
let her transcend all limits
of my small life.


Prayer, by Elaine Starkman.
Get the latest on mindfulness and meditation by subscribing to Julie Potiker's YouTube channel and Facebook page at Mindful Methods for Life. You can learn about mindfulness at www.MindfulMethodsForLife.com and also in Julie's book, "Life Falls Apart, But You Don't Have To: Mindful Methods For Staying Calm In The Midst Of Chaos", available on Amazon.com. This podcast is available on iTunes, iHeart, and everywhere you listen to podcasts.
---
Download Episode