Balanced Mind with Julie Potiker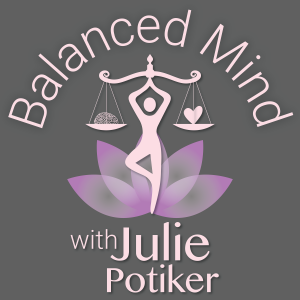 Shifting Awareness - Healing Light Meditation
October 26, 2022
Join Julie Potiker as she leads you in this healing light meditation. She completes the meditation with her poem, "Bird World Orchestra".
Bird World Orchestra, by Julie Potiker.
Sitting in a comfy chair under the cool canopy of a black locust tree,
I'm serenaded by the Bird World Orchestra.
The acorn woodpecker appears to be hosting a happy hour and salon at 5pm.
His guests swoop in and flit out.
The Northern Mockingbird,
Yellow-rumped warbler,
and the American Robin drop in for a drink.
The tiny Bush-tit, not embarrassed by it's name
is joined by Allen's and Anna's Hummingbirds.
The California Scrub Jay and the American Crow
not wanting to be outdone by the singing of the precious little House Finch screech
they are on their way.
The California Scrub Jay may be having a nervous breakdown.
It's difficult to know.
Hopefully he will make it to the party,
have some juice,
and calm down.


-Bird World Orchestra, by Julie Potiker
Get the latest on mindfulness and meditation by subscribing to Julie Potiker's YouTube channel and Facebook page at Mindful Methods for Life. You can learn about mindfulness at www.MindfulMethodsForLife.com and also in Julie's newly released book, "Life Falls Apart, But You Don't Have To: Mindful Methods For Staying Calm In The Midst Of Chaos", available on Amazon.com. Her podcast is "Balanced Mind with Julie Potiker", available on iTunes, iHeart, and everywhere you listen to podcasts.
---
Download Episode