Balanced Mind with Julie Potiker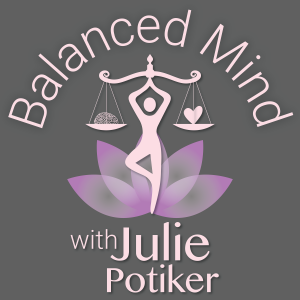 Simple Loving Kindness Meditation
July 31, 2022
Join Julie Potiker as she leads you through this loving kindness meditation. She completes the meditation with the poem, 'Living on the Razor's Edge', by Beth Kurland, Ph.D.
Living on the Razor's Edge, by Beth Kurland, Ph.D.


I never was an ocean child —
traveling each summer to the mountains
on vacations
became home
at a young age


that familiar mass of solid rock
immovable, unshakeable
stable and strong
steady and mostly unchanging
the way I longed for life to be


the way I longed for life to be
when loss came too soon
holding the grief of my 15 year- old heart,
showing me
the fragility and preciousness of life
are inescapably one.


But the ocean
is wild
is moving, ever-changing
with its waves dancing, cresting
falling, receding
rising and crashing
in a cacophony of sound
and fury
unashamed.


And strange, that in this uncertainty
in this troubled and challenging time
I long for the ocean.


I long for my fear and sadness
to be held in these waters,
tears finding their home in the salt of this earthly
treasure.


Take me to the shore of this vast expanse
where I can watch the intensity of the waves —
the fear, the grief, the sorrow
the fierce love, the kindness
of all kindred spirits


Where from this vantage point
no wave is alone
no wave disappears
nothing solid,
but Interconnected.
Part of the whole
where all of humanity is held.
Get the latest on mindfulness and meditation by subscribing to Julie Potiker's YouTube channel and Facebook page at Mindful Methods for Life. You can learn about mindfulness at www.MindfulMethodsForLife.com and also in Julie's newly released book, "Life Falls Apart, But You Don't Have To: Mindful Methods For Staying Calm In The Midst Of Chaos", available on Amazon.com. Her podcast is "Balanced Mind with Julie Potiker", available on iTunes, iHeart, and everywhere you listen to podcasts.
---
Download Episode