Balanced Mind with Julie Potiker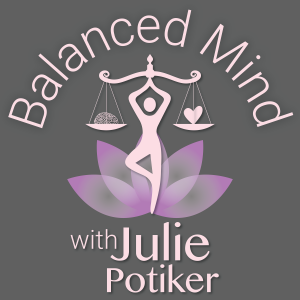 Peaceful Compassion Meditation with poem, 'Take the Loving Path'
July 15, 2022
Breathe in and out healing energy through open awareness in this compassion meditation led by Julie Potiker. She completes this guided meditation with the poem, "Take the Loving Path", by Zach Beach.
Take the Loving Path, by Zach Beach
When you're lost at sea,
wondering where to go
and who is safe to ask, take the loving path.
With forgiveness in each stride,
a backpack of kindness and a desire
to do good for others' behalf,
take the loving path.
Give freely, talk less, listen more,
and when you find that one who is quite a catch,
take the loving path.
Every moment of every day,
as you move into the future from the past,
you have a choice,
and I hope you decide to
take the loving path
From "108 Savasana Poems; Blissful Words from the Heart of Yoga".
Get the latest on mindfulness and meditation by subscribing to Julie Potiker's YouTube channel and Facebook page at Mindful Methods for Life. You can learn about mindfulness at www.MindfulMethodsForLife.com and also in Julie's newly released book, "Life Falls Apart, But You Don't Have To: Mindful Methods For Staying Calm In The Midst Of Chaos", available on Amazon.com. Her podcast is "Balanced Mind with Julie Potiker", available on iTunes, iHeart, and everywhere you listen to podcasts.
---
Download Episode