Balanced Mind with Julie Potiker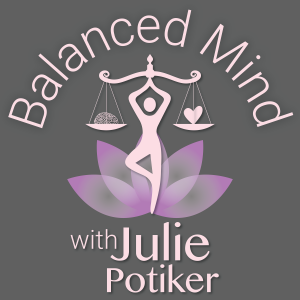 Classic Metta Meditation with Poem, "Where I'm From", by Julie Potiker
February 15, 2022
Sit back, close your eyes and breathe in compassion for yourself and others through this guided meditation. At the end of this loving kindness meditation, Julie Potiker shares her poem, "Where I'm From".
Where I'm From Poem, by Julie Potiker
I am from The Random House Dictionary, on its' own built-in desk in the library, near the gold colored Flokati Rug – a rug that could tell tales. 


From Fig Newtons and Grandma Claire's oatmeal cookies, delivered in the oatmeal cylinder box covered in brown paper and sent through the mail
.
I am from the flagstone and wood house with 2 big blue spruce trees in the front yard, 2 apple trees and 2 pear trees in the backyard.


I am from Lilac bushes running the length of the hedge, and my mom's green thumb making magic in colors, textures and scents – red, orange, yellow, pinks and purples – which I sometimes helped push into the rich dark soil.
I'm from matzo balls and brisket and be dressed in the foyer at 5pm.
From the Jacobowitz's, and the Scherr's.
I'm from whomever guesses the color of the door at the next motel gets a treat from the vending machine, and always keep your options open.
From C's are not acceptable in this house, and you won't be in trouble if you tell the truth.
I'm from the scholarship of the Chachem Zvi to the atheists and everything in between.
I'm from Cleveland, Ohio – Poland and Russia.
From Chocolate Ice Cream and Black Licorice.
From my parents eloping at age 18, and being together for 67 years until death did part them.
From my father supporting my mother in her career aspirations in the 60s, before men did those things – she soaring in healthcare administration, authoring 5 books, and lecturing around the globe with him.  
From Dozens of photo albums in storage – but my mom's perfume bottle collection, cow collection and owl collection gracing my shelves. My Dad's cashmere sweaters and throw blankets keeping me warm and connected, and a pile of his shirts lovingly made into a quilt that my eyes and heart love.
I am a link in the chain – going backward through time, and forwards forever.
Get the latest on mindfulness and meditation by subscribing to Julie Potiker's YouTube channel and Facebook page at Mindful Methods for Life.
You can learn about mindfulness at www.MindfulMethodsForLife.com and also in Julie's newly released book, "Life Falls Apart, But You Don't Have To: Mindful Methods For Staying Calm In The Midst Of Chaos", available on Amazon.com. Her podcast is "Balanced Mind with Julie Potiker", available on iTunes, iHeart, and everywhere you listen to podcasts.
---
Download Episode