Balanced Mind with Julie Potiker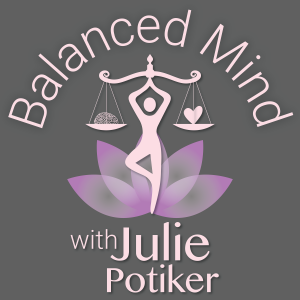 Compassion Meditation - Safe Place
June 26, 2021
Find your safe place through this compassion meditation led by Julie Potiker. She completes the meditation with a reading of the poem, "Untitled", by Willow Harth
"Untitled", by Willow Harth
This poem is not meant for you
unless you too have been underground
choking on your life's debris, and
playing peek-a-boo with death seriously
then the surprise of ten thousand buttercups
out of nowhere on every side where they'd
never been before on my daily walk
might have had the effect on you it did on me
because suddenly
I wanted to understand how these particular
flowers came to be—the whole evolutionary
history of mosses, ferns and angiosperms,
the miracle of photosynthesis and DNA, not
to mention the longings of the Milky Way
to reflect itself in the form called flowers and
in these buttercups, which seemed like a
visitation from the sun, urging me to tell you, in
case like me you had forgotten
we are the universe's latest way of blooming.
Get the latest on mindfulness and meditation by subscribing to Julie Potiker's YouTube channel and Facebook page at Mindful Methods for Life.
You can learn about mindfulness at www.MindfulMethodsForLife.com and also in Julie's newly released book, "Life Falls Apart, But You Don't Have To: Mindful Methods For Staying Calm In The Midst Of Chaos", available on Amazon.com. Her podcast is "Balanced Mind with Julie Potiker", available on iTunes, iHeart and everywhere you listen to podcasts.
---
Download Episode