Balanced Mind with Julie Potiker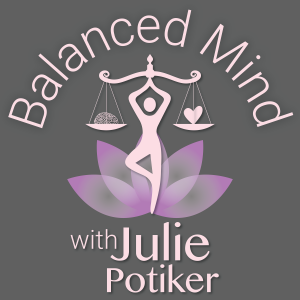 Guided Visualization - Love Travel
April 19, 2021
Who is it that puts a smile on your face and warms your heart?  In this guided meditation led by Julie Potiker, you'll bring this being on a journey with you to your favorite place - feeling the warmth, affection and love you have in your heart for your them.  Julie Potiker completes the meditation with a reading of a poem by Ed Crowley.
"I asked many Masters how I should sit in formal meditation.
I naturally received countless answers, all deeply sincere from experienced Masters..."
Get the latest on mindfulness and meditation by subscribing to Julie Potiker's YouTube channel and Facebook page at Mindful Methods for Life.
You can learn about mindfulness at www.MindfulMethodsForLife.com and also in Julie's newly released book, "Life Falls Apart, But You Don't Have To: Mindful Methods For Staying Calm In The Midst Of Chaos", available on Amazon.com. Her podcast is "Balanced Mind with Julie Potiker", available on iTunes, iHeart and other podcast platforms.
---
Download Episode