Balanced Mind with Julie Potiker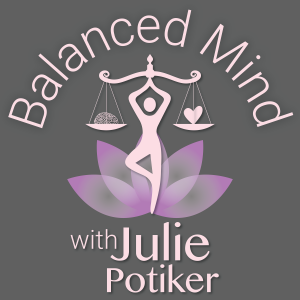 Passover - Love and Being Loved in a Pandemic
March 26, 2021
We mark Passover 2021 - with a meditation of love and being loved in a pandemic. Join Julie Potiker for this guided meditation where she brings you comforting words from poet Ralph Waldo Emerson to inspire and help you make it through difficult days.
"This is my wish for you: Comfort on difficult days, smiles when sadness intrudes, rainbows to follow the clouds, laughter to kiss your lips, sunsets to warm your heart, hugs when spirits sag, beauty for your eyes to see, friendships to brighten your being, faith so that you can believe, confidence for when you doubt, courage to know yourself, patience to accept the truth, Love to complete your life."  From Ralph Waldo Emerson.
Get the latest on mindfulness and meditation by subscribing to Julie Potiker's YouTube channel and Facebook page at Mindful Methods for Life.
You can learn about mindfulness at www.MindfulMethodsForLife.com and also in Julie's newly released book, "Life Falls Apart, But You Don't Have To: Mindful Methods For Staying Calm In The Midst Of Chaos", available on Amazon.com. Her podcast is "Balanced Mind with Julie Potiker", available on iTunes, iHeart and other podcast platforms.
---
Download Episode