Balanced Mind with Julie Potiker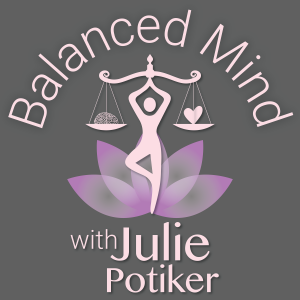 Loving Kindness & Letting Go
May 22, 2020
Get in touch with what you really need right now - and what you need to release that no longer serves you. Sit back, relax and breathe into this Loving Kindness & Letting Go meditation led by Julie Potiker for the Balanced Mind Meditation Center.
Poem: The Way It Is

There's a thread you follow. It goes among
things that change. But it doesn't change.
People wonder about what you are pursuing.
You have to explain about the thread.
But it is hard for others to see.
While you hold it you can't get lost.
Tragedies happen; people get hurt
or die; and you suffer and get old.
Nothing you do can stop time's unfolding.
You don't ever let go of the thread.

By William Stafford, from The Way It Is, 1998
You learn about mindfulness at MindfulMethodsForLife.com and also in Julie's newly released book, "Life Falls Apart, But You Don't Have To: Mindful Methods For Staying Calm In The Midst Of Chaos", available on Amazon.com. Her podcast is "Balanced Mind with Julie Potiker". You can also subscribe to her YouTube channel and her Facebook page.
ABOUT:
Julie Potiker helps others through mindful meditation at her practice in La Jolla, California and at also the Lawrence Family Jewish Community Center where she founded the Balanced Mind Meditation Center.
At her practice, www.MindfulMethodsforLife.com Julie provides mindfulness training to groups, individuals, and organizations.
---
Download Episode